This post contains affiliate links which means if you click on a link and purchase an item, we will receive an affiliate commission at no extra cost to you.
Gametime Review: Is it Legit, Reliable or a Scam?
Gametime is a mobile-first ticket broker that has both Android and iOS applications. The company has one of the best experiences for buying last minute tickets because you can do it on your phone and you don't need to print the tickets.

The biggest issue with Gametime is that it is fairly low traffic compared to its competitors and thus it has a limited number of tickets and event listings. There also have been significant complaints from customers about app glitches where they were charged for tickets that they didn't actually purchase but they have since been better at avoiding this.

Our Recommendation: Although we love Gametime's user experience, if you're looking to get the best seats, the best price or just buy tickets with lower fees then we recommend using SeatGeek because it tends to have much lower prices and a better selection of tickets and events.
Ticket Guarantees / Customer Service
7
Ticket Guarantees / Customer Service
0.8
PROS
Beautifully designed and easy to use app
Great for buying last minute tickets because it's mobile-friendly and you don't need to print tickets
Add your review
|
Read reviews and comments

SeatGeek
We recommend SeatGeek because it tends to have the largest selection of tickets and lowest prices.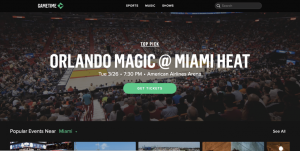 What is My Experience With Gametime?
Over the last few years, I've personally bought tickets to more than 50 events. So I'm well versed in buying tickets and understanding the navigation of ticketing websites.
Gametime is an award-winning app and the quality of its overall experience can't be understated. There is one big but though. They've oversimplified the ticket buying process which leads to frequently less than ideal experiences. What I mean specifically is that for an event like the Miami Open they've chosen to display tickets by day instead of in the format that every other ticketing site displays tickets: by day AND by stadium.
The result of this simple oversight is that you're forced to wade through a lot of irrelevant tickets in order to find tickets for the specific stadium that you're looking for. This design flaw might be a result of having less ticket inventory than the larger players (like StubHub) which forces Gametime to batch their tickets into larger categories.
As stated in the initial summary, the current shortcoming of Gametime is simply the lack of volume that StubHub and SeatGeek have. Until Gametime's volume increases it will continue to be a smaller player in the ticketing world.
Keep reading for breakdowns of other aspects of Gametime's experience.
What Are Gametime's Service Fees?
Gametime tends to have fairly high fees which is one of the reasons why it's not one of our recommended ticketing sites.
How Does Gametime Work?
In the words of Gametime:
"Gametime makes finding the perfect live experience remarkably fast and easy (especially last-minute). We curate an epic list of the most amazing possibilities your city has to offer. Once you select your event, we examine as many as 10,000 potential seats and present you with just the 50 best values – not an impossibly long list of choices.
Each curated seat option includes a high-resolution, full-stadium, panoramic view from that section. Navigate to the seat map to see price-vs-location comparisons within amazingly detailed, true-to-life, full-color stadium maps. Ticket options animate off-screen as they're purchased or on-screen as they become available – giving you the only glimpse into real-time availability in the world.
Once you've found the perfect seats, two-tap buying (even after the event starts!) gives you the speed you need to rule the last minute. After purchase, Gametime delivers tickets directly to your phone. Text your tickets to your crew so that everyone gets in instantly. Go from zero to inside in seconds. If plans change, no problem – sell your tickets with the push of a button. When you're stuck with paper tickets, snap a quick photo and sell them in seconds."
Gametime Popularity

Gametime is a mobile app with 4,338 reviews on the Apple App Store. Our estimate is that Gametime is a mid-tier broker in terms of traffic and that it doesn't have as much traffic as sites like StubHub and SeatGeek.
Gametime Refund Policy (Security, Trust & Reliability)

Gametime's Guarantee: "For buyers, we guarantee: You'll get the tickets you ordered in time for the event, and they'll be valid for entry. If that doesn't happen, we'll locate comparable replacement tickets or send you a refund. You'll get a refund if your event is canceled and not rescheduled. We love going above and beyond."
Gametime Customer Service Contact Info
No phone support.
Email: [email protected].

SeatGeek
We recommend SeatGeek because it tends to have the largest selection of tickets and lowest prices.