Shein Review 2023 – Is It Legit & Safe or a Scam?
This post contains affiliate links which means if you click on a link and purchase an item, we will receive an affiliate commission at no extra cost to you.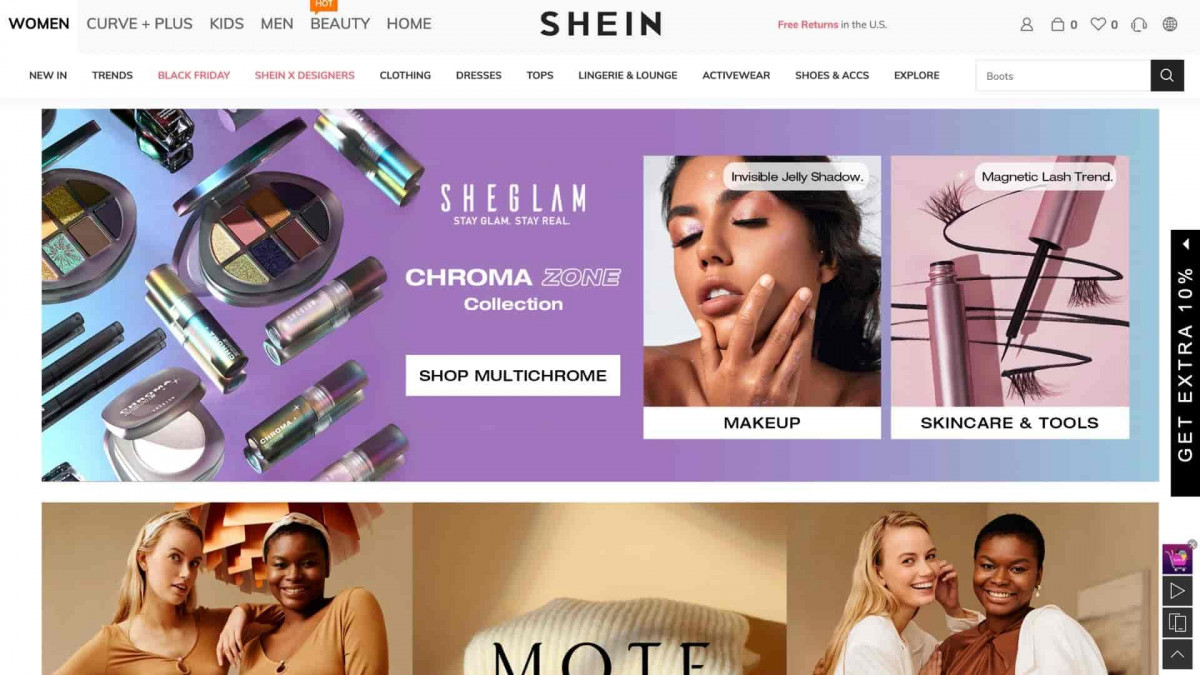 Honest Shein Review - Is Shein Legit, Safe, or a Scam?
Shein isn't a scam, it's a legit, safe, and reliable online retailer to buy from. Note that it's a fast fashion brand, and Shein clothing is made and shipped from overseas. So, while they tend to be low cost, standard shipping times can sometimes be slow.

The rating above was calculated based on our honest review of multiple sources, basing it on the average score of the criteria below.

Bottom Line: Shein is an extreme discount site for trendy items, but as long as your expectations are in line with the experience and you understand what it means when you're shopping from a fast fashion brand, then enjoy your online shopping!
Safety, Reliability, and Trust
7
PROS
Huge catalog of affordable & trendy pieces such as crop tops, Shein dresses, earrings, etc.
CONS
It's a fast fashion brand. Fast fashion companies have a reputation for being unethical and bad for the environment.
Add your review
|
Read reviews and comments
What Is ?
According to Shein's About Page:
"SHEIN is an international B2C fast fashion e-commerce company. The company mainly focuses on women's wear, but it also offers men's apparel, children's clothes, accessories, shoes, bags, and other fashion items. SHEIN mainly targets Europe, America, Australia, and the Middle East along with other consumer markets. The brand was founded in 2012, and since then it has upheld the philosophy that 'everyone can enjoy the beauty of fashion.' Its business covers more than 150 countries and territories around the world."
Click here to navigate to Shein's website and buy some Shein dresses, earrings, crop tops, a bathing suit, jumpsuit, and other trendy items. If the Shein products look like something you'd definitely dress up with, and you're interested in coupon codes to make your online shopping more affordable, click on the red button above.
Costs & Delivery Time
Items usually arrive in 2 weeks but can sometimes take a little bit longer.
You can choose between two shipping methods (Standard Shipping and Express Shipping) depending on your location. The latter option has a faster delivery time, but not by much. You also have the option to pay for shipping insurance at checkout.
There are Shein products on Amazon, too, and depending on where you live, shopping from Amazon might mean faster deliveries.
Read more info about Shein shipping here.
Alternatives
If you're not quite sold on our Shein review, some good Shein alternatives to shop trendy pieces are:
FAQs
: What's Like?
Shein clothes are mostly discount clothing of decent quality, but likely knock-offs of mainstream brands and trendy items. It's important to keep in mind that you're buying low-priced, overseas clothing.
Fast fashion companies like Shein use fabric with decent quality, but it's not the best. Instead, Shein clothes are meant to help you dress like your favorite celebrities by allowing you to wear lookalikes of brands they endorse without paying thousands of dollars for the real item.
: What Sizes Are Available In?
Shein sizing is slightly different from traditional Western sizing which can be challenging.
So, make sure to read their size charts carefully and look at the images of the items. They have a link to their size guide on all their product pages, be it for a dress, shoe, or any other item.
You can also look for customer photos online for more perspective. Buying items with reviews, especially those with customer photos, is much safer because there's less guesswork involved.
Read more info on Shein sizing here.
"You have a max of 45 days to make returns. You must send back and postmark your return packages within 45 days after the purchase date. No returns made after 45 days from the purchase date will be accepted.
Shipping is free on your 1st return for any order. You must use the shipping label we provide, then send back and postmark the package within 45 days from the purchase date."
View the full Shein return policy here.
How Do I Reach Out to 's C?
Shein offers customer support via live chat (6:00 to 21:00 PST) and tickets (response within 24 hours).
To find out more, go to their Customer Service Page. If you still have more questions, such as those related to the Shein app, express shipping, shipping insurance, order and delivery issues, clothing quality, or Shein points, you can visit their FAQ index here.