Truebill Review 2023 – Is It Legit & Safe or a Scam?
This post contains affiliate links which means if you click on a link and purchase an item, we will receive an affiliate commission at no extra cost to you.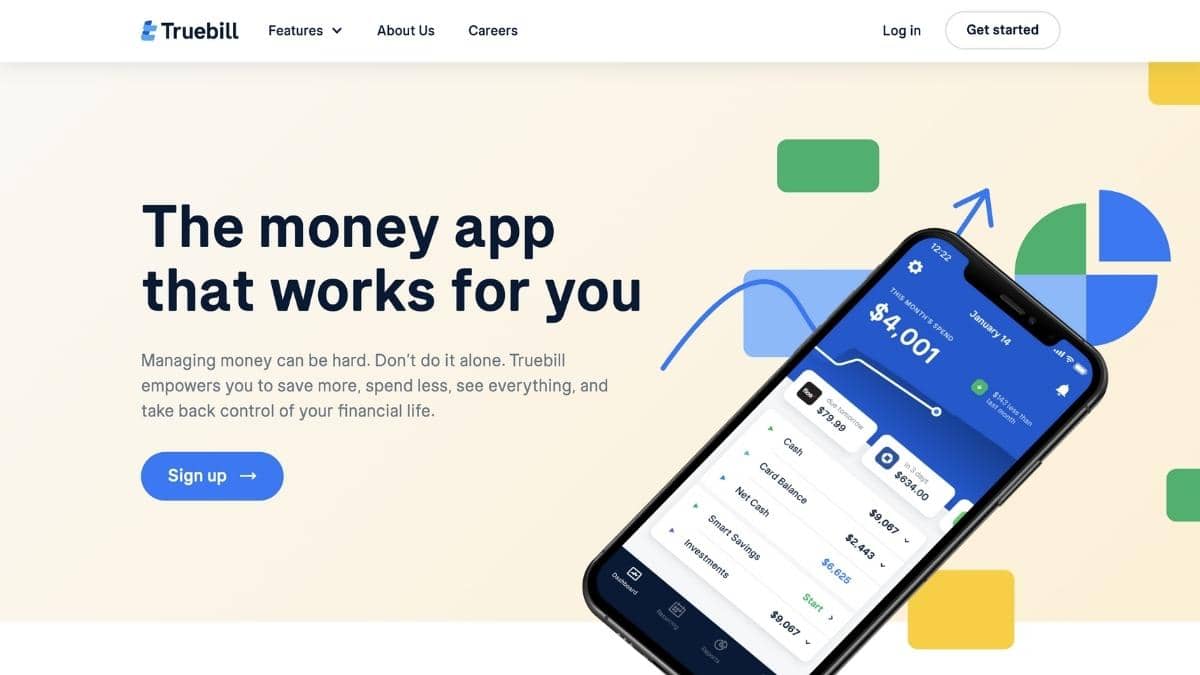 Truebill Review 2021 - Is It Legit & Safe or a Scam?
Truebill is a consumer bill negotiation service and budgeting app that helps its users with subscription monitoring, tracking their spending habits, and lowering their bills. This financial app company is based in San Francisco and has saved customers more than $14 million to date.

Truebill has a good reputation for helping with recurring bills, managing subscriptions, and keeping its user's bank account healthy. Because of this, I decided to try out their bill negotiation service and they managed to save me almost $400 on my Comcast bill!

Our Recommendation: We highly recommend using Truebill to track spending monthly, manage subscriptions, and get lower bills. Truebill gets our stamp of approval.
Safety, Reliability, & Trust
9.5
PROS
Strong reputation for trust and generating real savings for its customers
Slick mobile app and easy to use interface
Can help with more than just cable and cell phone bills
CONS
Aren't always able to save you money when doing negotiations - but there's no fee if they don't save you money
Add your review
|
Read reviews and comments

Truebill
We recommend Truebill due to its strong reputation and reliable service.
What Is Truebill?
Truebill is a budgeting app that helps you manage your monthly subscriptions and track your spending. It helps you check if your bank account is being charged for an unwanted subscription or any unused or forgotten subscriptions. They also offer bill negotiation services and other features that benefit your savings goals and credit score. Truebill access is also free.
Here's an excerpt from Truebill's About page:
"Our mission is to empower people to live their best financial lives. We offer our members a unique understanding of their finances and a suite of valuable services that save them time and money – ultimately giving them a leg up on their financial journey."
You can read more about Truebill's features and values here.
& Plans
The Truebill app is free to use, but they have optional subscription services to further help you with managing subscriptions:
The

will give you access to renews automatically, but you can cancel anytime within the 's section. chat, , , and more features exclusive to . The price for ranges from $3-$12 , where you get to choose what amount to be charged to your .
The 's also cost . After all, is time-consuming and expensive, so it's only right that this has a . They do give their customers a guarantee by only charging you if the negotiation is successful. The ranges from 30% to 60% of your first-year savings.
is a free feature, but Truebill accepts tips for their .
Truebill Alternatives
If this Truebill review didn't quite convince you, you can try a different service provider that also helps you track spending, monthly bills, unused subscriptions, and upcoming bills.
Some alternatives you can check out are Bobby, Trim, and Personal Capital.
Truebill FAQs
Is Truebill Safe to Use?
So far, the platform is on par with current industry standards, making sure to keep your data safe and encrypted. They're partnered with Plaid to securely connect with over 15,000 financial institutions in the US. They claim to really take user security seriously, so you can read more about it here.
Does Truebill Offer Refunds for ?
In the event of service outages, Truebill requests banks for overdraft fee or late fee refunds. You can start this process through the Truebill app. Truebill won't be able to do this on your behalf all the time, though. It depends on the bank. If this happens, you can read Truebill's guide on overdraft fee and late fee refund requests.
How to Reach Truebill Customer Support
You can visit their help center and browse the directory there for common user issues. You can also click the chat icon at the bottom right of your screen to send them a quick message.
What Bills Does Truebill Negotiate?
Truebill negotiates cable, cellphones, satellite TV, home phone, internet, satellite radio, and home security bills. They can handle Comcast, Charter, AT&T, DISH, Time Warner Cable (TWC), DIRECTV, Verizon, SiriusXM, ADT, and lots of other companies.
About WebsiteReviews:
If you're looking for the best online reviews for Truebill and similar websites, then you've come to the right place. We do comprehensive breakdowns of whether companies like Truebill are legit, trustworthy, reliable, or scams. Happy shopping!

Truebill
We recommend Truebill due to its strong reputation and reliable service.