Nasty Gal Reviews 2022 – Is It Legit & Safe or a Scam?
This post contains affiliate links which means if you click on a link and purchase an item, we will receive an affiliate commission at no extra cost to you.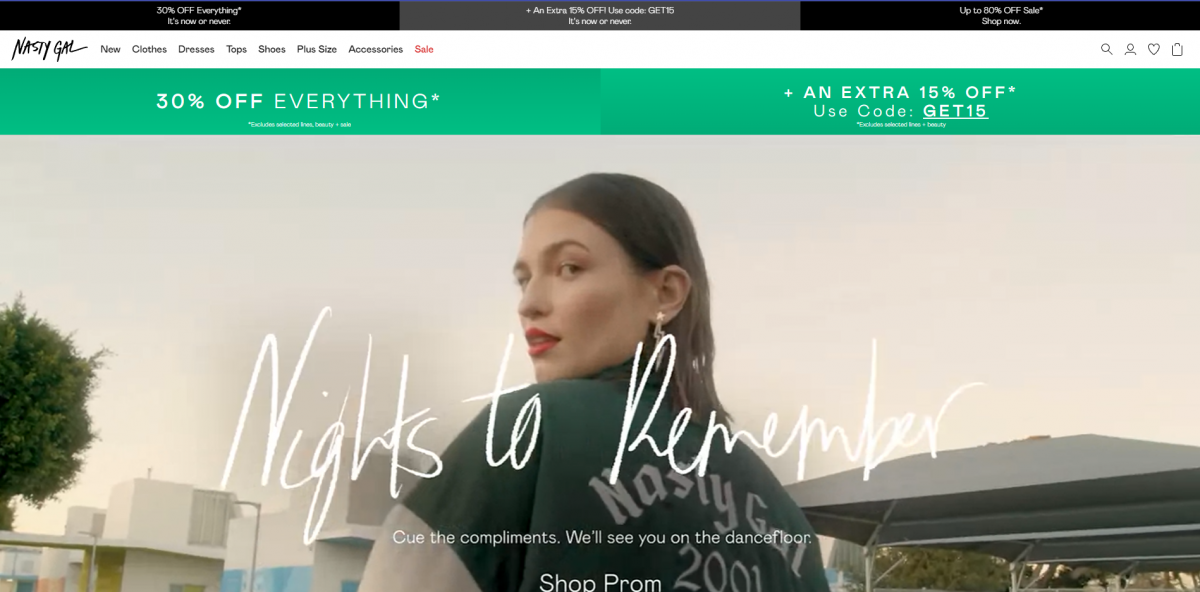 Nasty Gal Reviews 2023 - Is It Legit & Safe or a Scam?
"Nasty Gal is … a clothing retailer that caters to young influencers with the latest fashions. The website was started in 2006 in a San Francisco apartment and is now located in Los Angeles, California.

Nasty Gal does a great job of keeping up with the latest fashions and has an easy-to-use website. Their fashions are known for being quirky and fun, and they have great customer service.

Our Recommendation: It's just easier to find fashions you love on Amazon. With such a large reach and excellent customer service, we have to go with Amazon.com on this one."
Safety, Reliability, and Trust
9
PROS
Fast Shipping
Free Returns
Quirky styles
CONS
High Prices
Gimmicky fashions that don't wear well
Inconsistent quality control
Add your review
My Experience With Nasty Gal
Nasty Gal is an online fashion retailer based in Los Angeles. They offer a wide range of women's clothing at affordable prices. Nasty Gal was founded by Sophia Amoruso in 2006 and quickly became popular for its unique and eclectic style. 
Nasty Gal began as an online vintage clothing store and has since evolved into a full-service ecommerce destination for fashion, beauty, and lifestyle products for young women. The company originally sold vintage clothing on Ebay, where it was very popular. By 2008, the company was ready to open it's own website and warehouse.
Nasty Gal's growth can be attributed to a few key factors: the company's ability to create a personalized shopping experience coupled with its high level of customer service, its social media presence, and its ability to offer fast shipping and free returns.
The company has hundreds of employees and is well regarded in the industry. Customers love Nasty Gal's quirky style and trendy clothing, helping the company to grow a large social media presence. 
Although the company has a cult-like following, it's not without problems. Nasty Gal has been plagued with conflicts between workers and management, including claims of a toxic work environment. In addition, the company grew a little too fast and had financial problems stemming from the management team's inexperience. In 2016, the company was forced into bankruptcy and was bought by the Boo-Hoo Group.
Although Nasty Gal isn't perfect, I was impressed with their fashions and wanted to try them out. Their site is very attractive, and they put a lot of effort into fashion photography. The overall vibe is far better than most internet fashion retailers.
I love their clothes, and I adore the fact that they are not afraid to be weird sometimes. I seriously doubt that I need a pair of lace bunny ears or fake fur cuffs, but I love that Nasty Gal is quirky enough to sell them. Just a word of warning…they sell adult sex toys right along side the clothing, so the site is definitely not safe for work.
When you're looking for something on Nasty Gal, you might as well go for something unique. There are lots of places to buy a nice summer dress. Nasty Gal is where you find tiered tinsel capes and cowboy boots embroidered with aliens.
 I'm not sure I'm ready for a $70 dress made of confetti and bubblegum, but I found a really cool embroidered mini slip dress that was 30% off. I figured it would be a good way to test the system. To be honest, yeah, the dress was decent quality, and the design was fun. It wasn't anything super special, and the price was a bit high. But I'm not sad that it's in my wardrobe.
Although Nasty Gal is a decent fashion company and it's definitely unique, there is plenty of competition. I personally would recommend checking out a different website like Amazon that's a little cheaper and offers better value. The world is full of options, and a little searching can find plenty of weird things on the internet. Nowadays it's more important to find a company that sells clothes for a reasonable price.
The thing about Amazon is that almost every company sells there. So there's just so much variety, and the prices are extremely competitive. Best of all, you get Amazon's guarantee, and with Prime Shipping, transportation is fast and free. It's hard to beat Amazon because they just don't make mistakes and they work hard to deliver great customer experiences. So, I'd at least start on Amazon before I branched out to Nasty Gal.
What is Nasty Gal?
Nasty Gal is a website from Los Angeles in California. The website was started in 2006 by Sophia Amoruso and is popular because of its unique style and affordable prices.
Nasty Gal Alternatives 
If you're looking for alternatives to Mytheresa, you can check out Amazon.com.
Nasty Gal FAQs
1. Is Nasty Gal a Reputable Brand?
Yes. Nasty Gal has been around since 2006 and operates out of California. They have a good reputation for dependability and have legions of fans.
2. Is My Data Safe When Using Nasty Gal  Website?
Absolutely! The website uses encryption and only collects the information necessary to complete your orders and deliver excellent customer service.
3. How Long Does Nasty Gal Take to Ship?
USA standard shipping can take between 5-8 business days. If you're in a hurry, you can get your package in 3 days with Express shipping.
4. What Are Nasty Gal Shipping Costs?
Shipping costs in the USA are $11.99 for standard delivery and $14.99 for express. 
5. Where Is Nasty Gal Located?
Nasty Gal is located in Los Angeles, California.
6. Where Does Nasty Gal Ship From?
Nasty Gal has distribution centers across the world. Orders will ship from a warehouse convenient for your location.
7. Are Nasty Gal Sizes Accurate?
Yes! Check out the sizing information here.
8. What Is Nasty Gal's Refund & Return Policy?
Nasty Gal makes it easy to return and exchange fashions that don't work for you. Check out the details here.
9. Does Nasty Gal Have Good Customer Support? How Do I Reach Them?
Absolutely. Their contact information is located
here
.