Asos Reviews 2023 – Is It Legit & Safe or a Scam?
This post contains affiliate links which means if you click on a link and purchase an item, we will receive an affiliate commission at no extra cost to you.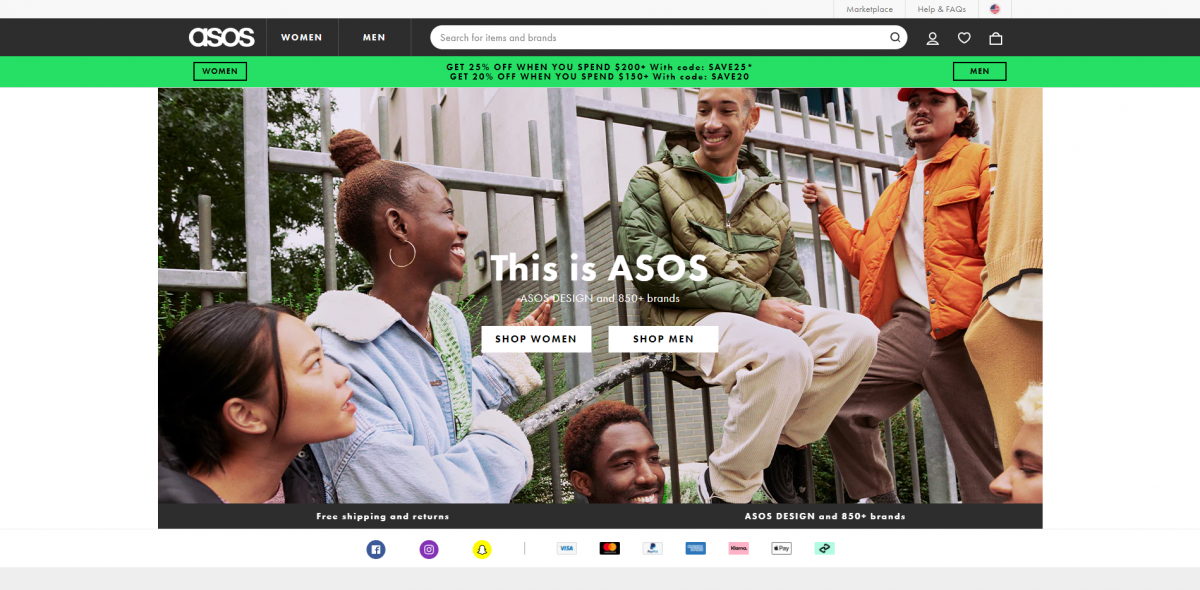 Asos Reviews 2022 - Is It Legit & Safe or a Scam?
Asos is a fast fashion brand that sells discount clothing and fashion items directly to customers. They're a little more expensive than some of their competitors but have great service and reasonable shipping times.

Asos is based out of the UK and is well-known in the fashion world. They're one of the larger discount clothing websites and have a full range of clothing.

Our Recommendation: The shipping times, quality, and prices could be a little better, but Asos has some really cute stuff and the shopping experience is fast and easy.
Safety, Reliability, and Trust
10
PROS
Asos has some really cute fashion items.
The prices are great.
The shopping experience is fast and easy.
CONS
I've had a few bad experiences with damaged clothing.
Sometimes the packages take a long time to arrive.
Going through the returns process is a pain.
Add your review
|
Read reviews and comments
My Experience With/Using ASOS
My friend Julia introduced me to ASOS last year. Everyone has a friend like Julia. She's the kind of girl who always looks great and well put together, but not because she's spending a fortune.
She told me that she was internet shopping and getting a lot of her basics from this store, ASOS. So I took a look, and I think I bought some earrings, just to try them out. ASOS is legit, and I ended up scoring some great jewelry.
I can't say that ASOS has always been great. Sometimes the clothes take a while to arrive, but there have been some quality problems. One time I found some really ugly brown stains on a blouse I ordered, and since it took a month to arrive, I was really disappointed.
It's not really fun or worth it to order from online stores if you're not confident that the product you're getting will come on time and be absolutely perfect. Waiting and then having to go through the product return process isn't cool.
Still, bad things can happen to the best companies, and the vast majority of my orders have been perfect. So be aware of the risk, but I think the prices and cute fashions are worth it in the end.
The really great thing about ASOS is that their fashions are really high quality and cute. There's a wide selection of different clothing items, including women's tops, jeans, accessories, and men's clothes. You won't be disappointed with the selection.
Clothing can either make or break your self-esteem and confidence, and knowing how to find clothes that'll look good on you is the key to feeling confident.
ASOS is a great place to shop for clothing, they have something for everyone, and they're reasonably priced. Their customer service is on point too which is super helpful if you're not sure what fits or what size to get. I think ASOS is really great all around. They're always coming out with new things too, which I love.
ASOS is a good place to start if you're looking for a place to buy clothes online. ASOS has an extensive selection of products for all types of people. They offer a wide variety of products for both men and women, which includes pants, dresses, makeup, shoes, and more. Whether you're looking for formal attire, casual wear, work attire, or that perfect dress for that upcoming holiday party, they've got it all.
ASOS offers fast shipping and competitive rates on international shipping, too. In addition, they're great for customer service should you need it and there's always someone who can help if you need anything. I've had plenty of good experiences with ASOS and would recommend them to anyone.
Sometimes bad things happen. As a result, you may need to return an item or request a refund. ASOS has a 30-day refund and exchange policy at the time of this review, but the item must be in the original packaging, unworn and unwashed.
Be aware that returning things can take a while. Items purchased during the flash sale, as well as any jewelry, aren't returnable. PayPal refunds can take up to 3 days, while credit card refunds might take 20 days. Ensure that the item is unworn, untorn, and unwashed before purchasing.
Shopping online should be an easy and painless experience. Since there are so many great stores out there, your order has to be perfect, or you should probably find another store. Still, out of thousands of daily orders, there are bound to be a few items that slip through the cracks.
Personally, I've been a little lazy about finding another store, but it's about time to go through that process again. Life's too short to wonder if they're going to get your order right this time.
What Is ASOS?
Be aware that returning clothes is slow at ASOS. There's a process that you have to go through with customer service. Still, the customer service was nice, and they tried to be really helpful. Eventually, all of my problems did get fixed.
ASOS works hard to give its customers the widest selection of clothes at the lowest prices possible. I'm sure they're trying hard, but there are just too many other great stores. If you do decide to give them a try, be aware that sometimes the clothes might arrive damaged or very late.
ASOS Alternatives
If you're looking for alternatives to ASOS, you can check out Amazon.com.
ASOS FAQs
1. Is ASOS a Reputable Brand?
ASOS is well known in the fashion industry. They're a major brand and have great online reviews.
2. Is My Data Safe When Using ASOS's Website?
Yes. ASOS is a major website and uses proper data security and encryption.
3. How Long Does ASOS Take to Ship?
It depends on where you're located. In the USA, you'll typically get your order in 2-5 days, depending on your shipping method.
4. What Are ASOS's Shipping Costs?
Standard shipping is free in the USA for orders of $50 or more. Shipping costs are automatically calculated at the checkout page when both the destination and delivery service are selected.
5. Where Is ASOS Located?
ASOS is registered in the UK.
6. Where Does ASOS Ship From?
ASOS ships orders from the UK
7. Are ASOS Sizes Accurate?
ASOS has a size guide with its items. Keep in mind that sizes in the UK are smaller than sizes in the USA, so you'll definitely want to come prepared with your measurements.
8. What Is ASOS's Refund & Return Policy?
ASOS offers a free refund if products are returned within 28 days. The items must be unworn, unwashed, and with the original tags and packaging.
9. Does ASOS Have Good Customer Support? How Do I Reach Them?
Yes. ASOS is a large and well-known fast-fashion company. You'll find the kind of quality customer service that you'd expect from a successful business.