This post contains affiliate links which means if you click on a link and purchase an item, we will receive an affiliate commission at no extra cost to you.
BillFixers Review: Legit, Reliable or a Scam?
BillFixers is a bill negotiation business that mostly focuses on cable and cell phone bills. The company is based in Tennessee and was started in 2014 by two brothers who were fed up with being overcharged by Comcast. BillFixers has a very positive reputation online but it is significantly more expensive (25% higher fees) than some of it's other reputable competitors. Despite how expensive the service is, the company seems to consistently deliver on its promises of negotiating lower rates without signing consumers up for contracts or downgrading their services. Our Recommendation: While we can verify that BillFixers is legit and certainly not a scam, we recommend using TrueBill instead because they charge 40% of first year savings instead of the 50% that BillFixers charges. This difference can really add up if your savings are significant.
PROS
Negotiating with your service providers is an effective way to save money on your bills
BillFixers has a strong online reputation for trust and safety with your bills and has been around for many years
The company can negotiate almost any monthly bill that you provide
CONS
More expensive than other competitors
Add your review
|
Read reviews and comments
TrueBill
We recommend TrueBill because it provides the same service but is significantly cheaper.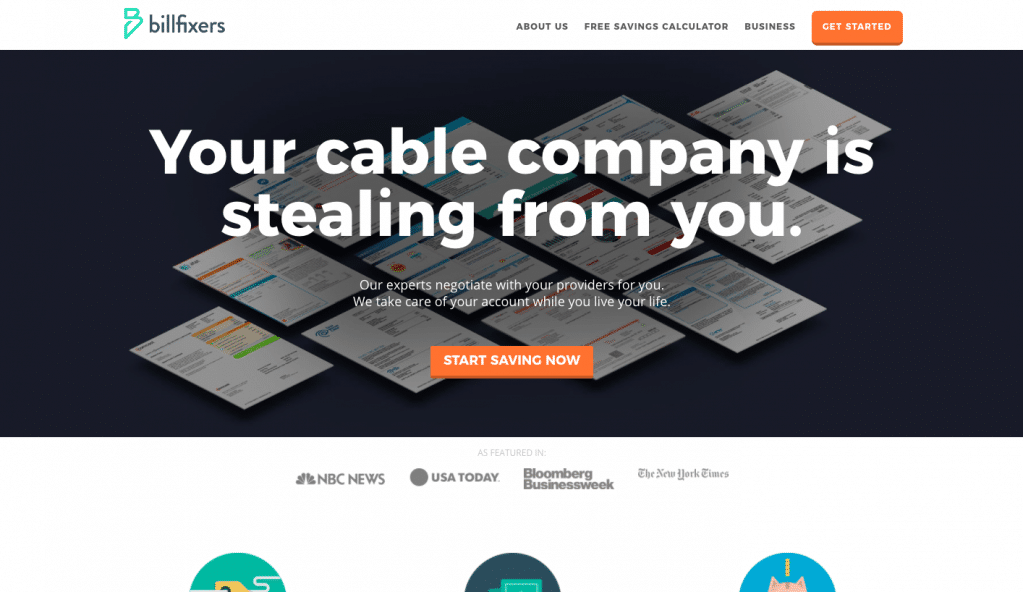 About BillFixers:
"BillFixers is run by two brothers from Nashville, TN who hate paying bills. After haggling over bills with one too many companies, we decided that nobody else should have to. With our combined experience in negotiation, we decided to start a company where customers could save money without any of the hassle and with absolute security. We wanted to take money out of the pockets of giant corporations and pass it on to you without you having to put down your book or take time off work. You send us your bills, we get them lower, and we split the savings down the middle—no hidden fees, no hold music, and no hassle."
What Bills Does BillFixers Negotiate? Does BillFixers Work?
BillFixers negotiates cable, cell phone, satellite TV, home phone, internet, satellite radio and home security bills. They can handle Comcast, Charter, AT&T, DISH, Time Warner Cable (TWC), DIRECTV, Verizon, SiriusXM, ADT and lots of other companies.
About WebsiteReviews
If you're looking for the best online reviews for BillFixers and similar websites, then you've come to the right place. We do comprehensive breakdowns of whether companies like BillFixers are legit, trustworthy, reliable, or scams. Happy shopping!
TrueBill
We recommend TrueBill because it provides the same service but is significantly cheaper.