This post contains affiliate links which means if you click on a link and purchase an item, we will receive an affiliate commission at no extra cost to you.
BillShark Review: Legit, Reliable or a Scam?
BillShark is a consumer bill negotiation business that will negotiate lower prices for you on cable, cell phone and other types of bills. While it's true that you can save a lot of money by negotiating with your monthly service provider, BillShark seems to have a very poor reputation online and we do not recommend using it. The company has a 2.78/5 rating with the Better Business Bureau and a 3.5/5 rating with Consumer Affairs. The main customer complaints, which are a bit scary, are that BillShark downgrades customers' plans without their permission, signs contracts without their permission and charges for the first two years of savings (which is significantly more than it's competitors). Our Recommendation: After reading an extensive number of reviews of different bill negotiation businesses, we strongly recommend TrueBill instead of Bill Shark because it has a much better reputation
PROS
Negotiating lower prices with your existing service providers is a great way to save money
The money saving claims on BillShark's website are accurate
CONS
BillShark has poor reputations with both the Better Business Bureau and ConsumerAffairs.com
The company has a history of dishonest practices including signing consumers up for contracts without their permission and downgrading services
Add your review
|
Read reviews and comments
Truebill
We recommend Truebill due to its strong reputation and reliable service.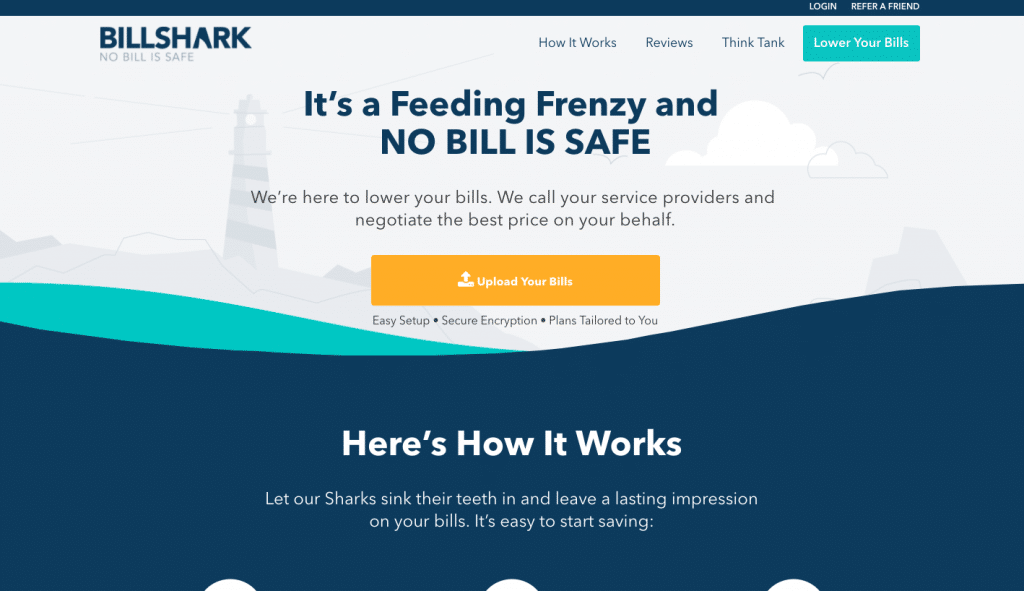 About BillShark:
"BILLSHARK is on a mission to help people to live smart money values by lowering their monthly bills. We negotiate recurring monthly bills such as Cable TV, Internet, Wireless and Security. We help you fight the man! from picking your pocket every month."
What Bills Does BillShark Negotiate? Does BillShark Work?
BillShark negotiates cable, cell phone, satellite TV, home phone, internet, satellite radio and home security bills. They can handle Comcast, Charter, AT&T, DISH, Time Warner Cable (TWC), DIRECTV, Verizon, SiriusXM, ADT and lots of other companies.
About WebsiteReviews
If you're looking for the best online reviews for BillShark and similar websites, then you've come to the right place. We do comprehensive breakdowns of whether companies like BillShark are legit, trustworthy, reliable, or scams. Happy shopping!
Truebill
We recommend Truebill due to its strong reputation and reliable service.