eCRATER Reviews 2023 – Is It Legit & Safe or a Scam?
This post contains affiliate links which means if you click on a link and purchase an item, we will receive an affiliate commission at no extra cost to you.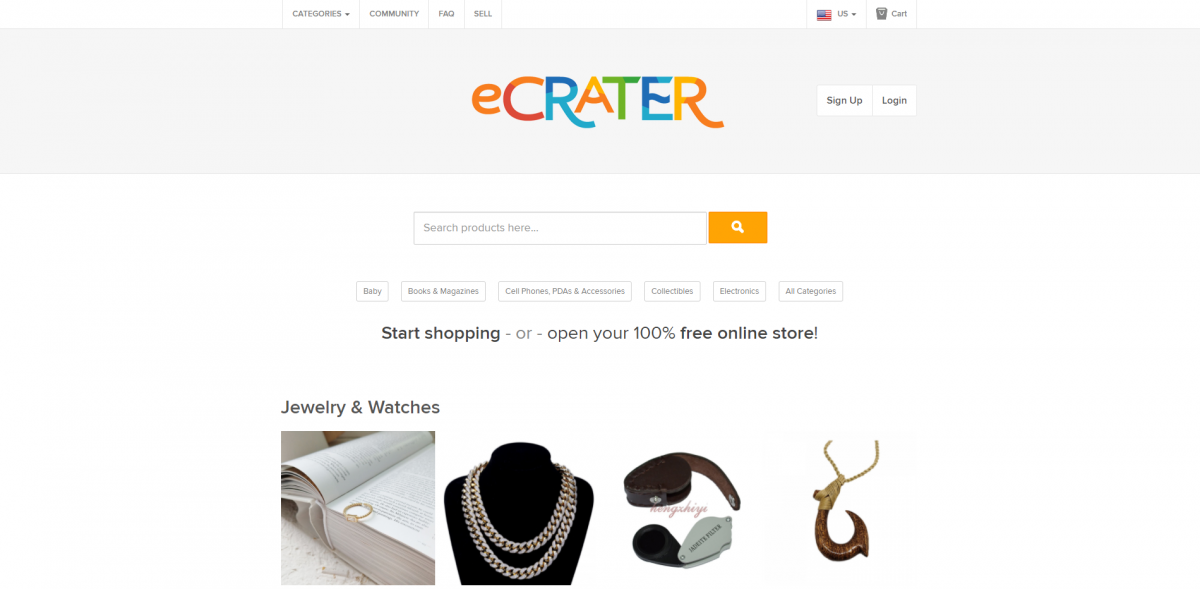 eCRATER Reviews 2022 - Is It Legit & Safe or a Scam?
eCRATER is a website that provides a shopping platform similar to eBay. It's less well-known and lacks some features when compared to its rival.

eCRATER is a good place to source hard-to-find items. There are a good number of small shops that service a wide variety of niches.

Our Recommendation: We don't recommend eCRATER because it doesn't stand out compared to its better-known rival eBay. Doing everything a little worse than your rival and lacking some features isn't a recipe for success. If you're looking for a similar website, we suggest that you use eBay.
Safety, Reliability, and Trust
6
PROS
eCrater is a legitimate website located in Irvine, California.
Individual shops are owned by small businesses located around the USA.
It's a great place to source hard-to-find items like old car parts and DVDs.
CONS
eCRATER isn't well known.
The selection isn't as good as bigger rivals.
eCRATER lacks features that customers have come to expect.
Add your review
My Experience With eCRATER
Nowadays, a lot of people have at least one side hustle. You can earn money by creating your own private shop. If you're new to the e-commerce world, you may be wondering how to start. One option is starting your own website and buying or renting a domain name for it.
But you can also sell things on platforms like eBay and Etsy. These auction and sales platforms have enabled lots of niche businesses to thrive over the years.
When I was just starting out, I faced this exact same problem. I didn't have much money and had an offline comic-book store that wasn't doing so well. Comic books are really loved by their fans, but they're hard to make money on when you're paying strip mall rent and staff salaries.
I started selling the books and games online using a few different websites, including eCRATER. eCRATER isn't as big as some of its rivals, but that ended up working out perfectly for me. I was able to stand out, get noticed, and make those crucial first few sales. In the beginning, you may have to hustle a little, but getting noticed and getting some sales gave me the chance to buy a few ads and get noticed on Facebook, eBay, and Etsy.
Once I had some traffic, it was easier to get more. Sometimes the hardest part is just getting the ball rolling. Once the ball started rolling and I started getting positive reviews, the business took on a life of its own. It worked out for me, and I think it'd work out for anyone with a reasonably good product to sell. At least you won't have to deal with rent and staff salaries.
eCrater ended up turning a hobby into a successful business for me. It's a great opportunity for small businesses struggling to get noticed on big platforms, helping you get some early sales and cash flow. It's even valuable for bigger businesses because it doesn't cost anything to get started and it's an opportunity to get extra sales.
As a new business owner, you may be feeling overwhelmed by all the expenses you'll have to pay. eCrater is great when you don't have much cash in the beginning. When you join up as a vendor, this platform doesn't charge any monthly fees for your site or to become a vendor so it's really cost-effective.
eCrater is similar to eBay or Etsy but is less well known. You can make a profit by selling your old, unused items that you don't want or need anymore. You'll be given a space to post pictures and descriptions of the product and then you'll also have an area where people can purchase the item. It has a small user base, which restricts how many people will notice your things to purchase, and it has very few customization choices.
The site allows you to sell your products all over the USA. If your product sells, you don't need to pay any final value fees unless eCRATER assists you in obtaining the sale via the primary marketplace. If you sell in the main marketplace and eCRATER helps you find a sale, you'll pay a 2.9% fee, which is deducted from the price that the purchaser pays.
eCRATER does the basics right. It gives customers a good place to find what they're looking for, and it's very easy to use. eCRATER also has a range of payment alternatives, including PayPal and debit cards. It's easy to use, and you can find what you're looking for on this site with a quick search.
How Does eCRATER Work?
According to their about page: "eCRATER is both a free web store builder and an online marketplace. If you are a seller you can create your own free online store in minutes. If you are a buyer you can browse and search among millions of products. All eligible products are submitted to Google Shopping. You can also easily import your eBay products."
eCRATER Alternatives
If you're looking for alternatives to eCRATER, you can check out eBay.
eCRATER FAQs
1. Is eCRATER a Reputable Brand?
eCRATER isn't as big or as well known as its bigger rival, eBay. In addition, the website struggles with basic consumer protections like refunds. It's a legitimate website, but it's biting off more than it can chew. It has a B rating and 105 complaints filed over the last 3 years with the Better Business Bureau.
2. Is My Data Safe When Using eCRATER Website?
According to their terms: "We do not release your personal information to third parties. However, eCRATER may disclose the User's identity and contact information, if we suspect that the seller created a fraudulent store, or if requested by a government or law enforcement body, an injured third party, or as a result of a subpoena or other legal action, and eCRATER shall not be liable for damages or results thereof and User agrees not to bring any action or claim against eCRATER for such disclosure."
3. How Long Does eCRATER Take to Ship?
According to Ship24: "The usual shipping time varies based on where you are heading in the country. In addition, some constraints may apply to shipping to other countries, such as package size, weight, and end destination.
Within the same national area, the Ecrater can be delivered in 2-4 days after the purchase order is placed. International shipments might take anywhere from 7 to 15 working days to arrive at their final destination."
4. What Are eCRATER's Shipping Costs?
Shipping is either free or flat rate. Each seller has the option of setting their own shipping fees using a zone system.
5. Where Is eCRATER Located?
eCRATER is located in Irvine, California, United States.
6. Where Does eCRATER Ship From?
eCRATER is a platform that allows individuals to set up their own stores. All sellers are located in the United States and take orders from all 50 states.
7. Are eCRATER Sizes Accurate?
eCRATER stores are all individually owned and operated on the eCRATER platform. You'll have a variety of experiences when buying from small sellers.
8. What Is eCRATER's Refund & Return Policy?
According to Reviewopedia: "This website does not accept payments or enable sales conducted on this website; it just serves as a platform for vendors to list and market their wares. As a result, the website makes it very clear that the first step in any return or refund issue is to contact your vendor directly and discuss their preferred approach.
If the seller does not respond to your emails, the website may be able to grant you a refund in specific circumstances, as long as the entire transaction was completed on the eCrater website. Unfortunately, this option will not always be accessible; it will be determined by the credit card companies involved and what they permit."
9. Does eCRATER Have Good Customer Support? How Do I Reach Them?
Headquarters:

420 Kirby Dr, Pacolet, South Carolina, 29372, United States

Phone Number:
Website: