Emmiol Reviews 2023 – Is It Legit & Safe or a Scam?
This post contains affiliate links which means if you click on a link and purchase an item, we will receive an affiliate commission at no extra cost to you.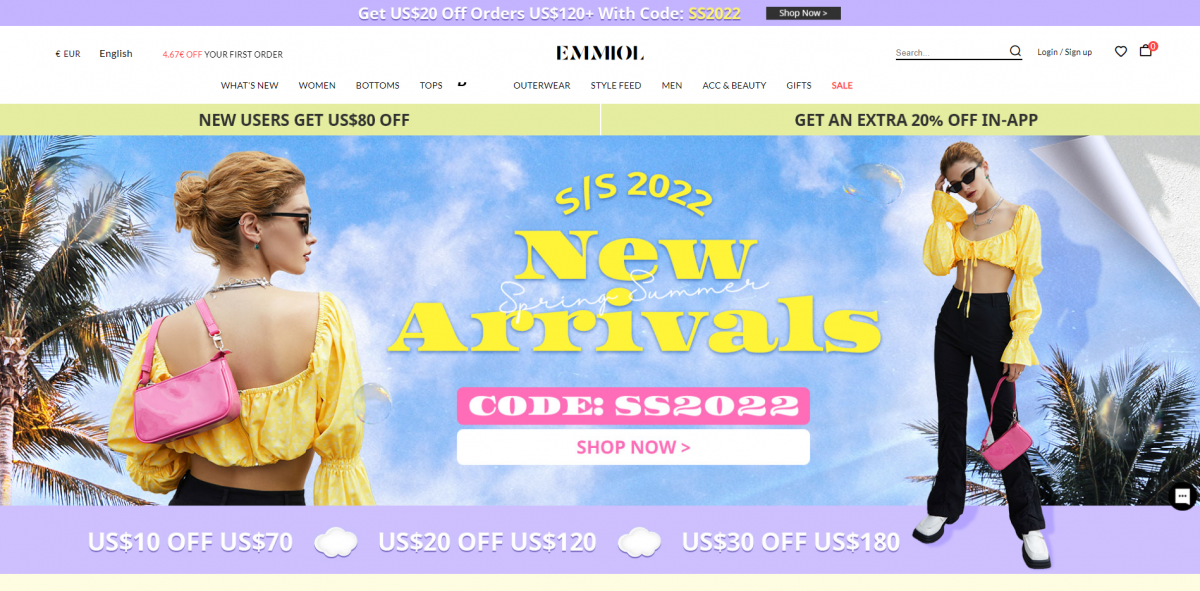 Emmiol Reviews 2022 - Is It Legit & Safe or a Scam?
Emmiol is a fashion website that sells trendy clothes on the cutting edge of youth culture. The company has a large following on social media, with a lot of influencer interest.

They deliver to customers worldwide out of their warehouses in China. The prices are a little higher than at discount sites, but the high quality has made the website popular.

Our Recommendation: We strongly recommend Emmiol to people who want to dress well in the latest trends. The website is safe, secure, and well-stocked with fashion that you'll adore.
Safety, Reliability, and Trust
9.5
PROS
Mid-range prices for high-quality fashion.
The clothes are very trendy.
Large social media presence.
CONS
Items ship from China.
Prices are higher than on discount websites.
Standard shipping times are up to 3 weeks.
Add your review
My Experience With Emmiol
The first thing you notice when you see the Emmiol website is that their clothing lines are extremely trendy. They've taken off on social media recently and are very popular with influencers. Read on to discover why Emmiol is so popular with fashionable young adults.
Emmiol is a fashion shopping website with moderate prices. They don't carry a lot of big brand names. Instead, they focus on hot looks that you'll love to be seen in. Emmiol is different from discount sites because they put fashion first. The clothes are right at the edge of youth trends and look like they belong on TikTok and Instagram.
My first experience with Emmiol was as a college freshman when I was looking to up my wardrobe game. I didn't have a lot of money but definitely wanted to look good. I looked at a lot of discount websites, but nothing was clicking until I found Emmiol.
So is Emmiol legit? I was about to find out. I ordered a pair of jeans and a crop top to test the quality. I was hoping for the best but prepared for the worst.
It took a few weeks for my box to arrive, but I was pleasantly surprised when I did the unboxing. The jeans were really comfortable and felt like I'd worn them for years. The denim was really nice, with a thick, soft weave. The crop top had a really chill vibe that I instantly fell in love with.
So I felt pretty good about my purchases and got busy with some real shopping. They have everything young women love, and a few things they might pick up for the boy in their lives.
It's not the cheapest site in the world, but they do run nice sales with some fashions being up to 50% off. If you keep an eye on the site, you can definitely score some nice deals.
The main thing that Emmiol has going for it is the fact that all of their clothes are really fashion-forward. Whoever does their clothing lines is really good. You don't see many duds on the site.
They ship from China, like everyone else. The only bad thing about that is that you might end up waiting a few weeks for your box to arrive. But if you can wait, you'll definitely be happy with what you get.
Keep in mind that returns have to travel a long way, so you really need to check the size chart and be honest with your measurements. They do accept returns on most items, as long as it's not underwear. You'll have to pay the shipping though, so it's best to be careful. That's always true when shopping online, though.
Most Emmiol reviews are good, but there's the usual mix of competitors trolling the review site with fake reviews. Every site gets those, and honestly, they're pretty easy to identify if you know what to look for. But the real people who buy from Emmiol seem genuinely happy.
Their Instagram has more than 500k followers, which shows that they're doing something right. It's a smart company and they deserve more attention. Most insta shops may be a little fake, but honestly, Instagram models are exactly the vibe that all of Emmiol's clothes give.
So will Emmiol be our generation's hot shopping site? Maybe? It's still a little too early to tell. But I'm glad that I found the site because I get a lot of compliments for my look. I can totally recommend the site to anyone who wants to look stunning for a reasonable price.
What Is Emmiol?
According to their about page:
Coined from a Spanish word, Emmiol means beauty. Emmiol's clothing brand promotes the idea that beauty is about feeling good about yourself. They want a woman to be whoever they want to be—feeling sexy, confident, and empowered.
You're the star of your life. And Emmiol is all about giving you the fashion you need to feel glam and fab. As a brand all about fashion, they want to help you find your individuality through style. They want you to own yourself simply by being you and enjoying fashion.
Whatever reason you have—to look for the perfect dress or feel good in a bikini, they'll give you something more. They want you to have the power to be free and find your style. They know fashion is your best friend, and they're here to give all that is fashion.
Emmiol Alternatives
If you're looking for alternatives to Emmiol, you can check out Asos, Yesstyle, and Grailed.
Emmiol FAQs
1. Is Emmiol a Reputable Brand?
Emmiol is welll known as a fashion-forward clothing retailer. They're legit and have been well received on social media with over Facebook likes. Most people with complaints note that shipments from all Chinese retailers were slow during the COVID pandemic.
2. Is My Data Safe When Using the Emmiol Website?
According to Emmiol's privacy policy, customers are responsible for their account and password security. Choose a strong password and change it periodically. Don't use the same login credentials (email and password) on several websites.
Nonetheless, they employ several different security precautions, including providing a secure server. All sensitive/credit information is encrypted and sent using secure socket layer (SSL) technology to Emmiol's payment gateway provider's database. It's only accessible by individuals with specific access permissions to such systems, which are obligated to keep the information secret. Your data (credit cards, social security numbers, financial information, and so on) will not be retained on Emmiol's systems after a transaction.
On a daily basis, McAfee Secure from Symantec does a security scan and comprehensive verification of Emmiol's servers and website to safeguard you online.
3. How Long Does Emmiol Take to Ship?
A shipment takes 3-10 business days to arrive. Refer to the table on their shipping & handling page for various shipping times to international destinations.
4. What Are Emmiol's Shipping Costs?
According to their shopping FAQs:
"Generally speaking, the total shipping cost will depend on the following factors:
The shipment method you choose (we offer Expedited Shipping)

The destination country that the package ships to

The number of items you order, as well as the total weight and volume (size) of the package
Our advice is to log in to your account, add the items to your cart, and then view the shipping fee which will be automatically calculated and displayed."
5. Where Is Emmiol Located?
Emmiol is located in China.
6. Where Does Emmiol Ship From?
All clothes ship from warehouses in China.
7. Are Emmiol's Sizes Accurate?
According to their size guide:
How do I find the size chart?

Simply click the "Size Guide" tab on each product page to see the dimensions in centimeters and inches, as well as how to measure to ensure a perfect fit.
What are some of the most prevalent sizing errors?

1) Selecting a size based solely on your height or weight is insufficient; both must be correct.
2)Simply select the size that you are most comfortable with.Please keep in mind that there are thousands of clothing companies. There may be minor differences in size standards owing to different measurement methods. Both procedures can result in ill-fitting clothing.
How do I choose the appropriate size?Take accurate measurements of your physique. How to calculate it:Clothing sizes are, on average, slightly larger than actual human body sizes. women purchase apparel, the breast size of the garments should preferably be 2-4 inches larger than the real body size. Similarly, men's apparel should have a bust size that is 4-6 inches larger than their body size, and a waist size that is 0.8 to 1.6 inches larger than their body size. The size disparity for winter jackets should be slightly bigger than the above-mentioned figures. (The preceding information is provided as a guide only; particular variances may exist depending on your preferences, seasonal style, and garment materials.

You may tile the most comfortable garments which you regularly wear, measuring the bust waist hips, and other regions, and then compare the measures to the size chart. Simply choose the size that is closest to you.
8. What Is Emmiol's Refund & Return Policy?
Returns and Exchanges
Please note that without prior authorization, they don't accept returns or exchanges. As a result, if you need to return your order for any reason, confirm with Emmiol's Customer Service team first. Once you've been given permission to return the item(s), complete all of the steps outlined.
All returns should be returned by a trackable carrier, according to Emmiol's recommendations. To verify that the product you are returning gets returned to Emmiol's warehouse, save the Return Tracking Number linked to it. EMMIOL.com is not liable for products shipped without the original packing slip or with a return label that was not given by us. EMMIOL.com also does not accept cash-on-delivery (C.O.D.) deliveries.
Please keep the following in mind while returning a product:
Returns must be made within 30 days of the receipt of merchandise.

Unworn and unwashed merchandise is required.

All tags, original packaging, accessories, and decorations must be entirely intact on merchandise.

It is not possible to return gift cards, jewelry, undergarments, or bodysuits.
Refunds
After they receive your return, they'll complete your refund within 7–10 business days. The precise timing varies and is determined by the payment source. They recommend contacting your payment provider for updates after refunds have been processed. No refunds are available for the original shipping expenses.
9. Does Emmiol Have Good Customer Support? How Do I Reach Them?
"You can access pre-sale and after-sale services. We're always happy to help; simply connect with Emmiol by emailing Emmiol at [email protected].
Call us
Please call Emmiol during Emmiol's office hours from Monday to Friday.

+(1)-833-9103-100 English service only




9:00 AM – 18:00 PM (GMT-5)

+ 44 (20) 38077021 English, German & Spanish service only




9:00 AM – 17:00 PM (GMT+1)

Note: Due to the peak season and time difference, EMMIOL is experiencing a high volume of calls at the moment. If no one answers or the line is busy, They recommend that you contact Emmiol via email to solve after-sales issues.
Address
Company name: STARWE LIMITED

Company address: FLAT/RM 308 3/F CHEVALIER HOUSE 45-51 CHATHAM ROAD SOUTH TSIM SHA TSUI HK

Operation Team Address: Shenzhen Digital Technology Park, No. 2, Road 7, Gaoxin Park, Science park, Nanshan District, Shenzhen

Certificate No.: 69126124-000-03-21-8

Organization number: 2671507″