This post contains affiliate links which means if you click on a link and purchase an item, we will receive an affiliate commission at no extra cost to you.
Flash Seats Review: Fees? Legit, Reliable or a Scam?
Flash Seats is a ticketing system based purely online. They claim that you can buy tickets to sold out events and resell the tickets you don't use instantly. However, the tickets being sold are overpriced, and if they seem to be at the right price. Customer service is known to be rude, and the company itself seems to have an "oh well" attitude. After reading more than 55 reviews, we don't recommend Flash Seats as a legit website to buy or sell your event tickets."
Our Recommendation: If you're looking to get the best seats or the best price then we recommend using SeatGeek because it tends to have much lower prices and a better selection of tickets and events than Flash Seats.
Add your review
|
Read reviews and comments

SeatGeek
We recommend SeatGeek because it tends to have the largest selection of tickets and lowest prices.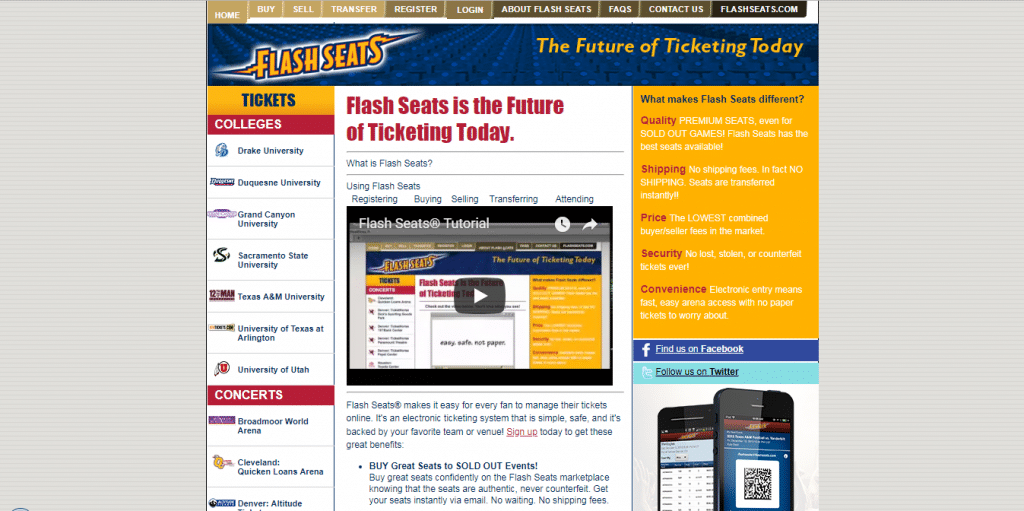 My Experience with Flash Seats
In my everyday life, I buy and sell tickets regularly. Because of this, I've had to get up close and personal with pretty much every single ticket resale site that exists. That may be a bit of an exaggeration, but it sure feels like I've seen them all. I've seen ticket sites that have a little to offer, have a lot to offer, or in a lot of cases, have the same kind-of-hidden, less-than-desirable things to offer.
Flash Seats is one of the ticket sites I hope most people would be wary of from the start. Its homepage is a jumbled up mess, to say the least. It's bright and flashy while also being really outdated and just hard to look at. They can even admit their website is more complicated than it has to be, offering a tutorial on how to buy/sell tickets on the homepage.
The thing that Flash Seats wants me to think sets it apart is the fact that it has no shipping fees because all tickets are transferred instantly. That admittedly is a nice feature, but I often urge others to be extra careful of tickets that are transferred instantly, for they can be easily counterfeit. Flash Seats does state they offer security. However, they don't share their exact policy pertaining to how they prevent stolen tickets or what happens in case of stolen tickets. They just simply state that the people who sell there are trustworthy.
Flash Seats seems to make everything a bit more complicated. As I read through the FAQ, it seemed that through FlashTickets, you don't actually get tickets but rather an ID to scan at the gate with your ID and credit card. This particular method just seems more complicated and leaves more room for error than a traditional ticketing method.
I went to search for tickets, but there is literally no search bar. There is really no way to search for tickets, period. In order to find a ticket, you have to browse through the site. This is extremely difficult since FlashSeats only displays their tickets in a long list with links. In fact, when you hit "Buy," you are taken to a list of venues, not organized with any rhyme or reason seemingly.
Using FlashSeats is strange. It claims to be "the future of ticketing" while presenting itself in a way that is outdated. I may have given FlashSeats a chance out of curiosity if they had some sort of return policy, but it doesn't look like one of those is in place, and if there is, they're hiding it from their customers.
With FlashSeats comes a lot of "I don't knows," from me and from them. If I'm trusting someone with something as valuable as my credit card information, I want to know they have my best interest in mind. I don't feel like FlashSeats does, or if they did, they're not telling me, which brings me back to all of the "I don't knows."
I can't recommend FlashSeats. The future may be now, but for ticketing, it doesn't seem like it's with FlashSeats. Be safe and go with what you know.
Pros:
Paperless tickets
No shipping fees
Cons:
Charges cards multiple times for purchases and never offering the money back
Customer service is little to no help
Hidden "service fees" for a digital-only ticket
What Are Flash Seats's Service Fees:
Unfortunately Flash Seats tends to have very high checkout fees.
Flash Seats® makes it easy for every fan to manage their tickets online. It's an electronic ticketing system that is simple, safe, and it's backed by your favorite team or venue!
About WebsiteReviews
If you're looking for the best online reviews for Flash Seats or other websites then you've come to the right place. We do comprehensive breakdowns of whether certain companies are legit, trustworthy, reliable or are pure scams. We often frequently feature coupon or promo codes so that you can get the biggest possible discounts when making your online purchase. It's rare that websites such as Flash Seats are pure scams but if they are then we'll let you know and if they aren't we'll make sure to detail why they are safe, legit and trustworthy to purchase from. Happy shopping!

SeatGeek
We recommend SeatGeek because it tends to have the largest selection of tickets and lowest prices.