Flipp App Reviews 2023 – Is It Legit & Safe or a Scam?
This post contains affiliate links which means if you click on a link and purchase an item, we will receive an affiliate commission at no extra cost to you.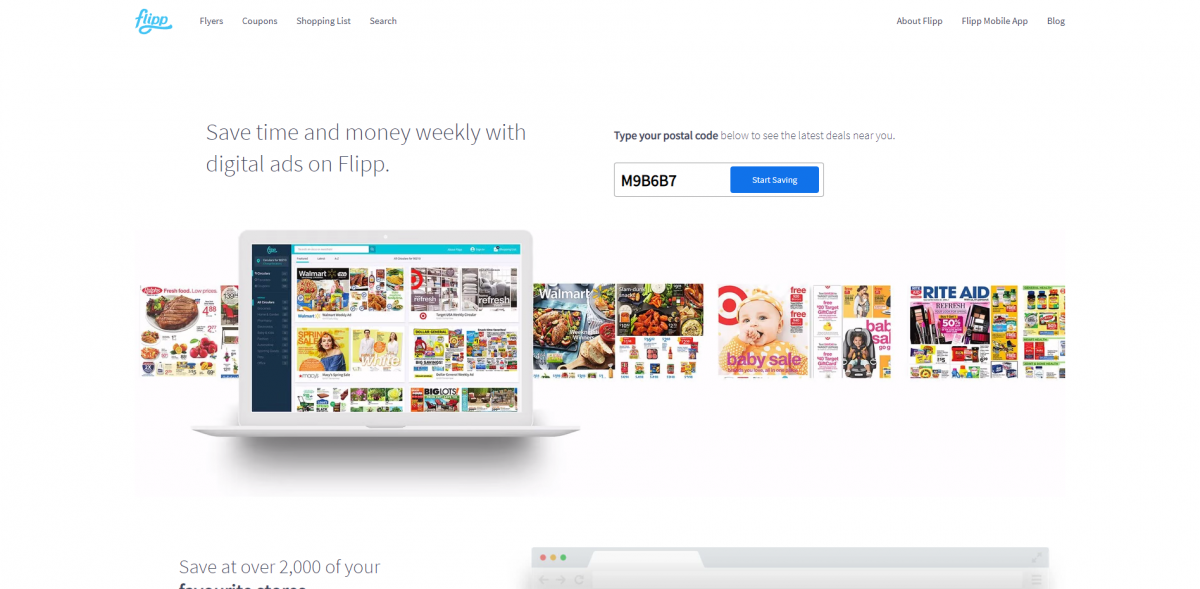 Flipp App Reviews 2022 - Is It Legit & Safe or a Scam?
Flipp is an app that collects all of the grocery and discount store advertisements for your local area. You get the same coupons and discounts that you would have gotten by picking up a circular at the front door.

Flipp is useful for people who love reading newspaper advertisements and making grocery lists. It's not going to save you money when shopping online, or help you find little boutique stores. If it fits your grocery shopping style, then it can be a major timesaver.

Our Recommendation: We don't recommend Flipp because it just seems to miss the needs of most customers. If you're digital savvy, you're probably already shopping online, and if you prefer to run down to your local store, then their specific app will be better. This app can work for the right person, however. If you want an alternative, try Groupon.
Safety, Reliability, and Trust
9
PROS
Intuitive, easy to use
Great for grocery shopping
Best-in-class search function
CONS
Shopping lists do not sync with Google Shopping List/Alexa
Flipp only works in The US/Canada
Options of use are limited for categories other than groceries
Add your review
My Experience With Flipp
Most of us try to avoid advertisements. In a world where we're constantly surrounded by ads in all forms of media — we download ad blockers and avoid spammy websites. Except for the Super Bowl, ads are uncool.
But Flipp is all about consuming as many ads as possible. It's basically the old supermarket circulars and newspaper inserts all collected in one searchable place. And it has lots of fans.
My sister is one of those people who loves searching through supermarket ads while she makes her grocery lists and weekly menus. Cheap pork means Tuesday night pork chops, and there are always lots of coupons that take the prices even lower.
The fact that Flipp is so straightforward to use is one of the main reasons for its success. It took me ten minutes to download it and start looking for sales and coupons. It's even better than the old paper advertisements because you can search through them and keep everything in one convenient location.
I've only tried coupons a few times, but I like to save money, and I know my sister always saves a lot of it with coupons. My sister is super into coupons, so I wanted to give it a try. I got really excited when she told me about this new app on her phone that'd give me all the deals near me, so that made it even easier for me to find coupons for what I wanted.
Every store I went to was within walking distance. Plus, I didn't buy anything I didn't truly need. This indicated that all of my purchases were for food. This enabled me to calculate just how much of an immediate impact this software had on my saving habits.
Call me a slacker, but I wouldn't have seen most of these deals if it hadn't been for this app. They're continuously inundated with so many deals and offers that they sometimes tune out, missing out on important information that may save us a lot of money in the long run.
I could've saved more than $100 in a week if I had gone all-in and modified my typical shopping routes. However, you must remember that I would have wasted a significant amount of time in the process. And a buck saved here and there wasn't worth the time wasted.
Flip is a legit way to save money. You get access to all of the grocery coupons in your local area, which can make a big difference.
With all of the manufacturers' coupons and sales in your local area, you can save up to 50% on your grocery bill. You can also find a lot of deals on other types of things like electronics and fashion, so it really can add up.
In the end, I'm not a big couponer, and most people don't like the ads. I also prefer to shop online most of the time, so I'm more likely to save money from a big Amazon sale than I would with Flipp. But Flipp works for people who still like to go to the grocery store in person, and want a better form of the old advertisement circulars.
I don't recommend Flipp because I think it's 30 years too late. This would've been great in the 1990s, but nowadays, most of us are shopping online and getting things delivered anyways. Getting your products online has an even better cost and time savings.
How Does the Flipp App Work?
Flipp is a free download shopping app for iOS and Android phones and tablets. The goal of this software is to make the process of finding the greatest deals at nearby retailers as simple as possible. From coupons to standard discounts to loyalty benefits, Flipp has practically every type of promotion. In a nutshell, Flipp is a virtual shopping assistant that may help you save money and, perhaps more significantly, time.
Flipp isn't like other supermarket shopping applications. It focuses on weekly grocery store sales fliers to help you save money. Despite the lack of refunds, Flipp is a useful tool for saving money on groceries and other home items. It's also quite simple to use.
Flipp App Alternatives
If you're looking for alternatives to Flipp, you can check out Groupon.
Flipp App FAQs
1. Is Flipp App a Reputable Brand?
Flipp is a retail technology company that works with the largest retailers and brands to help transform their businesses to thrive in this digital age. They're reinventing the way people shop and helping North Americans provide for their families by making life affordable.
Flipp helps shoppers provide for their families by making life more affordable.
They do that by working with the largest retailers and manufacturers in the world to help them transform their business to connect them with millions of shoppers through the next generation digital shopping marketplace. Their award-winning Flipp app is used by millions of shoppers every week to make better purchase decisions to save on their weekly shopping.
2. Is My Data Safe When Using Flipp App's Website?
According to the website, they implement a variety of physical, procedural, and technical security measures concerning their offices and information storage systems and facilities to protect the safety and prevent any loss, misuse, unauthorized access to, disclosure, or modification of your personal information when you enter, submit, or access your personal information.
3. How Long Does Flipp App Take to Ship?
Flipp makes local advertisements and coupons easy to use and available. They won't ship you anything.
4. What Are Flipp App's Shipping Costs?
Flipp will never send you anything except advertisement notifications and spam emails. You can opt out of the notifications and spam emails if you want.
5. Where Is Flipp App Located?
Flipp Corporation is located in Etobicoke, ON, Canada and is part of the Computer Systems Design and Related Services Industry. Flipp Corporation has 160 total employees across all of its locations and generates $23.07 million in sales (USD).
6. Where Does Flipp App Ship From?
According to the website, their address is 350 – 3250 Bloor St W, East Tower, Etobicoke, ON, M8X 2X9, CA
7. Are Flipp App Sizes Accurate?
Flipp doesn't sell anything directly. They allow you to find the best deals and coupons in your local area.
8. What Is Flipp App's Refund & Return Policy?
Flipp doesn't sell products, so there's nothing to return or get refunded.
9. Does Flipp App Have Good Customer Support? How Do I Reach Them?
Address: 3250 Bloor St W Unit 350 Etobicoke, ON, M8X 2X9 Canada

Phone: (416) 626-7092

Website:

www.flipp.com