IPSY Reviews 2023 – Is It Legit & Safe or a Scam?
This post contains affiliate links which means if you click on a link and purchase an item, we will receive an affiliate commission at no extra cost to you.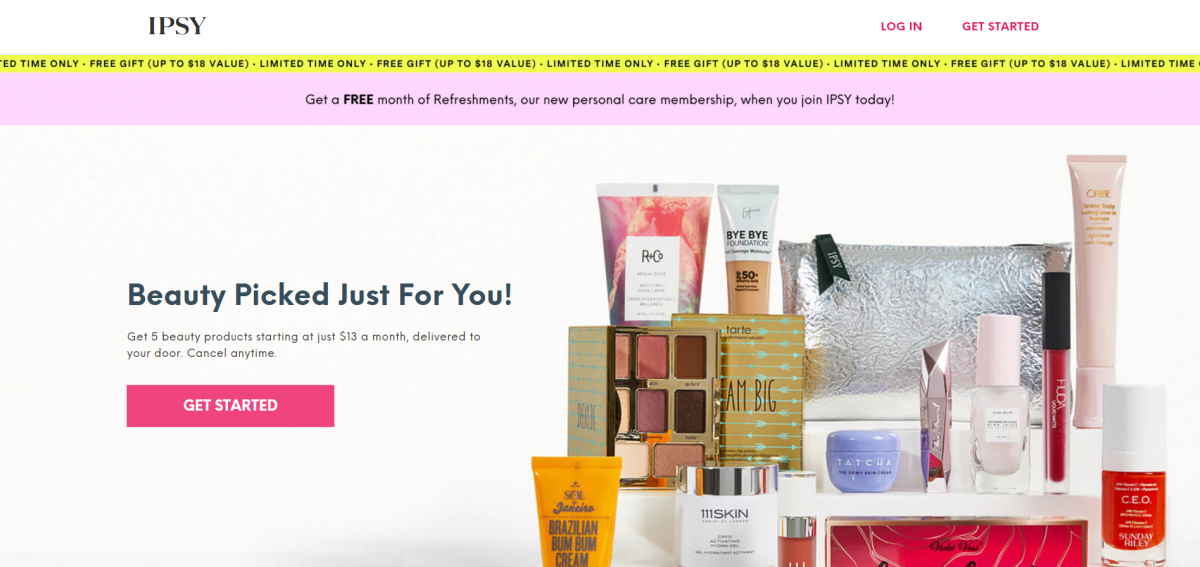 IPSY Reviews 2022 - Is It Legit & Safe or a Scam?
IPSY is a fashion subscription box founded by YouTube makeup legend Michelle Phan. Subscribers can choose between a $13 or $28 monthly product sample box tailored to their needs.

Each month, you'll receive the $13 or $28 box, although you can also upgrade to a quarterly $55 box. Most customers like the quality of the makeup. However, it's not unusual for the makeup to be unsuitable for a particular customer.

Our Recommendation: We don't recommend the IPSY boxes because they're often filled with makeup that doesn't match your needs. Although the product quality is fine, makeup is a very personal purchase that needs more than a beauty quiz to get right. If you want a beauty box, consider boxes from Birchbox instead.
Safety, Reliability, and Trust
9
PROS
Premium items with a wide range of brands to choose from.
The cosmetics subscription box contents are chosen based on your beauty quiz results.
Every month, you'll receive a complete cosmetic kit as well as a makeup bag.
CONS
Random selections of makeup are unlikely to be a good fit for you.
It might be aggravating if product personalization falls short of expectations.
If you don't make a choice on time, you could lose out on something you wanted.
Add your review
My Experience With IPSY
The IPSY Glam Bag is one of the most popular and cheapest subscription boxes on the market. The company was founded by the first breakout makeup channel star, Michelle Phan. Each month, IPSY's Glam Bag includes a large number of beauty samples from some of the biggest names in makeup, haircare, and skincare, including some well-known luxury brands.
I know a lot of girls who love IPSY's 13 dollar bags, so I wanted to try it out. Their product quiz was pretty detailed, with a lot of questions about my favorite colors, scents, and skin problems. Then, right before they sent the bags out, I got a notification and went back to choose 3 of the products in the bag.
The first time I got my pink bag in the mail, I was super excited. I opened it up, and it was some eyeliner, a nice perfume, a face mask, a lip gloss, and some blush. I liked the products, although the lip gloss and blush weren't my favorite colors.
Each month, I got a new collection of items and a new glam bag clutch. Everything was really cute, and I was excited to get my bag. Eventually I kind of just started getting bored. I love Michelle Phan, but I just started to question why I was getting a beauty bag in the mail every month. The price was great, but did I really need a bunch of semi-random cosmetic samples?
So, the way it works is that you can choose between the normal Glam Bag and the Glam Bag Plus. You may also sign up for the Glam Bag X, which is a quarterly replacement for either of the previous programs. IPSY works with a celebrity to choose additional full-size goods for you to choose from and upgrades your bag for Glam Bag X.
Then, each month, IPSY sends Glam Bag members five cosmetics, skincare, haircare, and other beauty samples in a cute little bag. They somewhat tailor the selections to you by using an initial onboarding survey. They recommend starting with the $13 Glam Bag, but for additional full-sized cosmetic goods, consider the $28/month Glam Bag Plus or the $55/quarter Glam Bag X.
IPSY is simple to join; the process begins with a survey that helps them match you with items they believe you'll enjoy. You pay for your first bag in advance, but you'll be charged each month at the end of the month before your next bag ships.
But it's not all waiting; depending on your plan, you get to choose one of three things each month. These options are also personalized for you, and they're only available while supplies last, so act quickly! Your package will arrive in IPSY packaging, and all of your goods will be packaged in a usable new cosmetic bag.
The items you receive each month are determined by the questionnaire you complete when joining up, and the comments you provide regarding the things you receive each month. In addition to evaluating your items every month so IPSY can supply better products for you next month, update the questionnaire on your profile anytime your tastes change or if your products aren't quite perfect.
In the end, I can't recommend people buy IPSY glam bags. Although the products are okay, you're going to end up overspending. Most people will say that the products they got weren't bad; they just never needed or will use them.
If you decide that you want a subscription makeup box, I recommend shopping around. Check out Birchbox — it's a good alternative.
What Is IPSY?
IPSY is a beauty subscription service that delivers a set of personalized beauty products straight to your door, making it easier to discover your new go-to's, feed your passion for beauty, and try your favorite brands at an incredible value.
IPSY was founded by Michelle Phan, the original Youtube Makeup Tutorial Star, and they fearlessly support the self-expression and inclusivity that made it happen. That's also how the Glam Bag—a set of personalized beauty products you can't wait to try, test, and tell your friends about—came to life.
It all starts with your Beauty Quiz, a quick quiz that includes questions about your beauty preferences, skin tone, hair color, eye color, favorite brands, and more. Using your answers, they build a bag that's unique to you by matching you with beauty products based on your preferences, and they deliver a new bag of beauty faves to you each month.
IPSY Alternatives
If you're looking for alternatives to IPSY, you can check out Birchbox, BoxyCharm, or BeautyFIX by Dermstore.
IPSY FAQs
1. Is IPSY a Reputable Brand?
Yes. IPSY is one of the best known beauty subscription services, and is well known for being honest and trustworthy. Michelle Phan, the founder, was the first mega-star in the Youtube beauty niche, and has major collaborations with major brands around the world.
2. Is My Data Safe When Using IPSY's Website?
IPSY takes data security seriously. They use industry-standard technical, physical, and administrative safeguards to secure their customers' data. IPSY encrypts your personal information online, using Transport Layer Security ("TLS"). TLS allows for a private, reliable site connection where your identity is authenticated with cryptography. Offline, they restrict access to your personal information to only those IPSY employees who need it to perform a specific job function. They require all IPSY employees with access to your personal information to follow specific security protocols concerning its proper handling. 
They also hold their vendors who need access to your personal information to strict confidentiality and security requirements. Third-party service providers assist them with the physical security of some of their computer hardware. When you visit their site, you access servers that they backup constantly. Their servers are hosted at locations that are private and secure data center facilities behind physical and virtual firewalls.
3. How Long Does IPSY Take to Ship?
According to their website, Glam Bags typically leave IPSY's warehouse in the middle of the month and generally take around 7-10 business days to reach your front door. Of course, this may vary per box, as they send IPSY's shipments in batches (one batch for the West Coast, one batch for the East Coast, and a batch for the Midwest) for the most effective deliveries. This means your box could arrive either the second, third, or fourth week of every month.
For more information on shipping to non-U.S. destinations or shipping to Alaska, Hawaii, or U.S. territories, check out IPSY's IPSY Care guide here. 
4. What Are IPSY's Shipping Costs?
IPSY offers free shipping across the US. The estimated shipping costs for international orders using Planet Express package forwarding service are the following:
IPSY package 1.3 lbs, 12×8×4 inches (0.59 kg, 30.48×20.32×10.16 cm)

Planet Mail Express | $8.56 | 20–28 business days

USPS Express | $32.92 | 7–10 business days

FedEx Economy | $36.21 | 4–7 business days

FedEx Priority | $41.58 | 3–5 business days

DHL Worldwide Express | $61.94 | 2–4 business days
5. Where Is IPSY Located?
IPSY is based in the San Francisco Bay Area, with offices in New York and Los Angeles. In 2015, the firm reached profitability in its first year and received a $100 million Series B investment from Sherpa Capital and TPG.
6. Where Does IPSY Ship From?
According to the website, they have two warehouses, one in North Carolina and one in Texas, where IPSY's dedicated teams work around the clock to build and send out your bag as quickly as possible. Once your bag — and the rest of its shipment batch — is ready, they send it over to your DHL or FedEx carrier.
7. Are IPSY Sizes Accurate?
IPSY's gift bags are suitable for everyone who loves fashion and are one-size-fits-all.
8. What Is IPSY's Refund & Return Policy?
If you're not entirely happy with your IPSY product, you may return it to IPSY within 30 days of your purchase. All returned IPSY orders must be unused, in their original packaging, and in new and sellable condition. IPSY will refund the purchase price back to the credit card you used, less a $5 restocking fee.
Refunds may take up to ten business days to process. Return shipping and handling are free when you contact IPSY Care and use the return label that they provide. They won't refund original shipping charges unless an error on IPSY's part caused the return. Because of the limited quantities of IPSY Offers, there will be no exchanges.
9. Does IPSY Have Good Customer Support? How Do I Reach Them?
Contact of Ipsy customer service
Head Office
Personalized Beauty Discovery, Inc.
201 Baldwin Ave. 2nd Floor.
San Mateo, CA 94401
Customer Service
Email: [email protected]