Modlily Reviews 2023 – Is It Legit & Safe or a Scam?
This post contains affiliate links which means if you click on a link and purchase an item, we will receive an affiliate commission at no extra cost to you.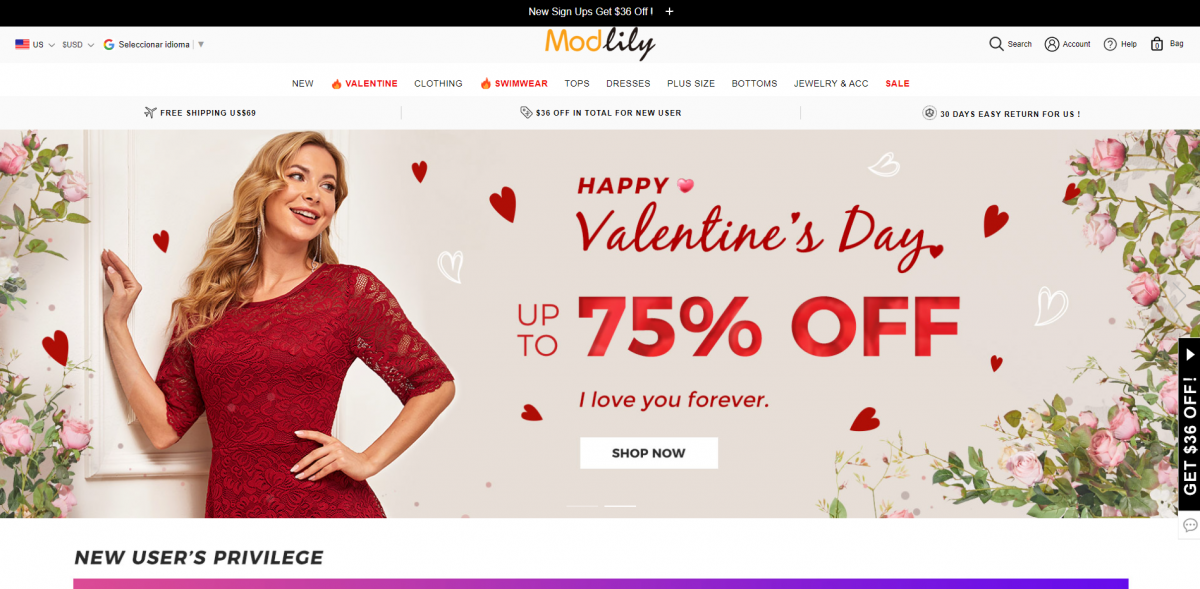 Modlily Reviews 2022 - Is It Legit & Safe or a Scam?
Modlily is a discount women's clothing store that sells clothes direct from the factories in China. It takes a few weeks to arrive at your door, but you'll save a lot of money shopping with them. As long as you plan things out, Modlily is a great way to look great and save money at the same time.

Modlily is a great website. It has generally good reviews, but you'll want to be careful and order the correct size. It's also worth noting that it takes several weeks for your items to arrive. Finally, you need to have reasonable expectations for a $15 pair of shorts. The quality will be good, but it won't be exactly the same as designer-label clothes.

Our Recommendation: Modlily is definitely a website to check out. Their low prices and excellent service make Modlily a leader in the discount women's fashion category.
Safety, Reliability, and Trust
9
PROS
The prices are fantastic.
Modlily has a large selection of cute fashions.
The website is well designed and easy to navigate.
CONS
It'll take at least two weeks for your order to arrive.
You need to be careful and read the size charts.
Ordering direct from China requires patience.
Add your review
|
Read reviews and comments
My Experience With Modlily
I love discount clothing websites. They're my secret weapon for looking great on a salary that never goes far enough. About six months ago, I ran into Modlily and fell in love with some swimwear they had on sale. Ordering was painless, and two weeks later, I was wearing the cutest swimsuit on the beach.
Since then, I've returned several times to pick up little black dresses and cute costume jewelry. The clothes are really cheap, so it's easy to just surf the website at lunch and pick up something cute when I'm bored. 
So, Modlily is a legit discount online clothing store. They have thousands of things like women's tops, dresses, swimsuits, and jewelry. If you've been buying your clothes offline, you'll be amazed at the fantastic prices you can find at Modlily. $25 hoodies and $7 earrings are normal.
Modlily is a reputable fashion retailer. They'll never take your money or credit card information, so it's not a fraud. It takes a couple of weeks to get your orders, but the prices make it worth the wait.
Like many online fashion websites, the country of origin is China. China has emerged as a fashion capital, and all of the big fashion brands work out of there now. Modlily's location in China gives them direct access to the factories that make the clothes. This is ordering direct from the source, so that's why the prices are so great.
Modlily sizing has normal North American sizes, and they even have plus sizes. Still, you definitely want to take your time and check the size chart.
A quick look around their site will reveal Modily's massive range of first-rate goods and fashion clothing. Modlily.com is a leading worldwide online shop that sells stylish apparel. Their pricing is great, but I also really like their comfortable fashions. 
For the past few years, they've been serving customers from all around the world. There are few complaints about shipping times, but most reviews have been really positive. Modlily is an excellent website to look for unique dresses online.
Shipping times are really something I've had to get used to with these discount women's clothing websites. We're all so used to getting instant gratification from Amazon. However, if it's something you can wait for, the prices really make up for the inconvenience.
Shipping is free for orders over $69, but processing time for your order usually takes 2–4 business days, and some items may need 6–10 business days. If the processing time takes longer than expected, Modlily will email you. After your order ships, you can expect it to take between a few days and 2 weeks for your order to arrive.
You have 30 days to decide if an item is correct for you. If not, you can send the item back to them without 30 days of receipt.
Modlily has high-quality control standards to make sure all the products ship in perfect condition. If you're not 100% satisfied with the items you received, they gladly accept the return and exchange within days of receipt. Just make sure the clothing is in brand new condition, and keep in mind that late requests won't be accepted.
You'll need to contact customer service before you can make any returns. They'll give you the correct return address and give you more information. You have to return the clothes in new condition: Unused, unworn, and unwashed. They'll refuse items returned with obvious use, makeup, deodorant, perfume, or similar product stains.
It's really easy to get started, and you can put in a small order the first time to get started. Right now, they have some really cute bohemian earrings for about $8 that I'm looking at. However, the fashions change all the time. If you see something you like, snap it up, because it won't be around long.
What Is Modlily?
Modlily is a global online boutique that's a leader in selling fashion clothing. Whether you're a retailer or a shopper looking to get a hold of the latest products, Modlily provides light-speed service and fantastic prices. Their goal is to be able to serve everyone worldwide.
Modlily Alternatives
If you're looking for alternatives to Modlily, you can check out Shein, Glik's, and Light in the Box.
Modlily FAQs
1. Is Modlily a Reputable Brand?
Yes, Modlily is a well-known discount women's fashion brand.
2. Is My Data Safe When Using Modlily's Website?
Modlily uses an encrypted website and is protected by DMCA.com and Securetrust.
3. How Long Does Modlily Take to Ship?
Items usually arrive at your door in 2-3 weeks.
4. What Are Modlily's Shipping Costs?
Standard shipping is free for orders of at least $69. All orders will display the shipping costs in the shopping cart.
5. Where Is Modlily Located?
Modlily is located in China.
6. Where Does Modlily Ship From?
Modlily ships from China.
7. Are Modlily Sizes Accurate?
Yes, but you'll want to check the size guide.
8. What Is Modlily's Refund & Return Policy?
You need to contact customer service to get a shipping address and return information. Returns must be made within 30 days and clothing must be in the original packaging and in good condition.
9. Does Modlily Have Good Customer Support? How Do I Reach Them?
Yes. Contact customer support using live chat, by ticket, or by email.