Newegg Reviews 2023 – Is It Legit & Safe or a Scam?
This post contains affiliate links which means if you click on a link and purchase an item, we will receive an affiliate commission at no extra cost to you.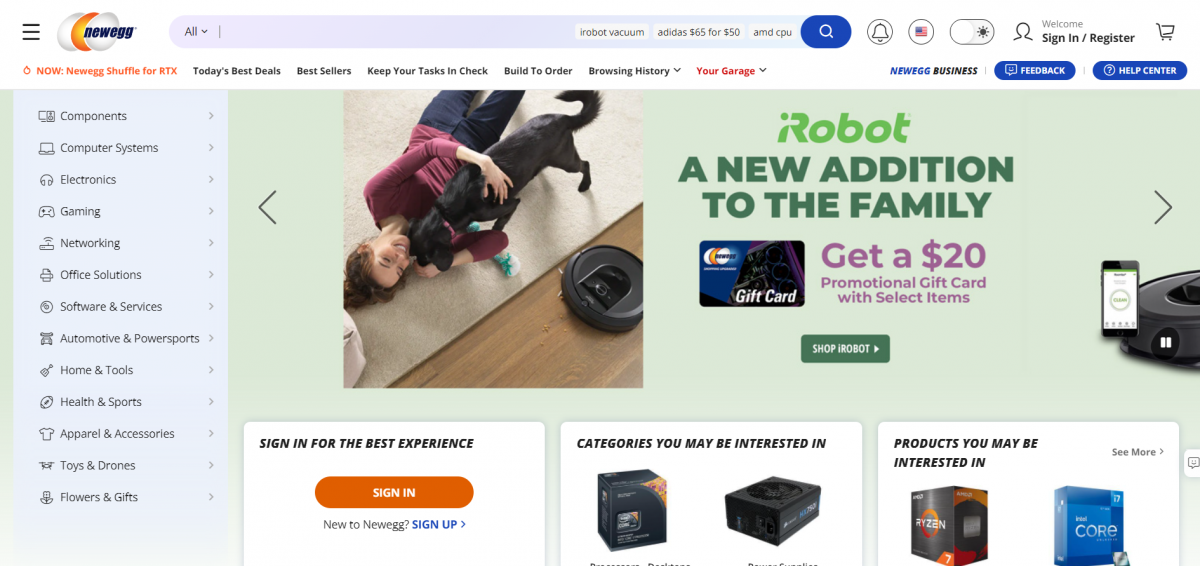 Newegg Reviews 2022 - Is It Legit & Safe or a Scam?
Newegg is an online electronics retailer that was established in California in 2001. It was a major part of the PC building hobby and industry for 20 years, but lost ground to major rivals in the 2010s. It came under new management in the 2020s and is trying to make a comeback.

Newegg is a legit company, and it's had a mixed reputation over the years. Most purchases were fine, but they had a poor return policy and eventually got caught in a large scandal that made major news.

Our Recommendation: We recommend looking elsewhere for your electronics. There are many great options, including ordering directly from the manufacturer. Some excellent electronics retailers include Amazon, eBay, and Best Buy.
Safety, Reliability, and Trust
6
PROS
Newegg has a 20-year history as a leading electronics retailer.
They're working hard to improve their service and are laser-focused on regaining customer trust.
CONS
They lost ground to competitors in the 2010s because of poor merchandise return policies.
Newegg doesn't do anything better than their competitors, but they do some things worse.
Buying prebuilt systems directly from the manufacturer is common and easy.
Add your review
|
Read reviews and comments
My Experience With Newegg
I've bought things from Newegg over the years, most recently in 2014 when I built a PC for my dad. Over the last seven years, though, I've moved on to better rivals like Amazon. Newegg never really seemed to have anything better than Amazon, and they certainly didn't have Amazon Prime benefits.
I never had major issues with Newegg, but maybe I was lucky. I remember returning something in 2014, and it worked out for me. Their return policy was fine on paper, and most returns were probably processed properly. This is a case where maybe 95% of the customers had a great experience.
But it also seems like they understaffed their returns department and tended to refuse returns based on damaged merchandise. Since it's not unusual for computer parts to be dead on arrival, this eventually built a bad reputation with the community. Even a small percentage of errors adds up to a bad situation.
Keep in mind that computer parts are expensive, and hobbyists often order parts frequently to build systems for friends and family. Business IT departments buy a lot of details online for their office systems. Even occasional rejected returns leave bad feelings in this community.
Newegg was founded by Fred Chang in 2001 and has grown to become the "e-commerce destination for computer hardware, software and digital content." Newegg is a company that thrives on innovation and providing the most up-to-date products. It was sold to Chinese investors in 2016 and has had a string of leadership changes since then.
Newegg has been a massive part of the PC building landscape for the past 20 years. In the early 2000s, it became the go-to place to buy PC parts and electronics, slowly clawing market share away from big box stores like Best Buy.
Things never stand still, though, and over the years, Amazon and other more nimble competitors have grown up around Newegg. Best Buy and other big boxes developed their own websites, and the whole industry grew up. Newegg's policies and problems look stale in an environment where Amazon accepts no-questions-asked returns.
Retail has stories like this all over the place. It's always a tricky business, and it's just gotten more difficult in the winner-take-all online world. Rivals came out with better return and shipment policies and became more efficient. Newegg became the store that didn't keep up with the times.
Running a massive online store is difficult, and it seems like they never updated their systems to handle their sales volume. Over the years, they've developed a reputation for a poor returns policy and generally worse selection than their rivals.
There aren't a lot of stores for buying parts anymore, and we certainly don't want to lose anyone in the space. Building your PC is an increasingly more niche hobby these days. With the rise of laptops and pre-built desktops, there are a lot of great parts stores to choose from. Building a gaming PC is still possible with all the available parts, but it's much easier to buy one from one of the many online or offline stores that offer custom-built systems.
I don't dislike Newegg, and I think they'll improve their service in the future. For their sake, I hope that they do. The landscape is littered with old retail giants that fell behind and lost everything.
I recommend choosing another PC parts website like Amazon or Best Buy. PC parts and electronics arrive broken sometimes, and it's not the customer's fault. It's just not worth it to risk a lot of money on a website that doesn't have a best-in-the-business return policy.
What Is Newegg?
Founded in 2001, Newegg began selling PC components and helped popularize the PC-building movement, and in doing so, developed a cult following among PC and DIY enthusiasts. Since then, Newegg Inc. has been the leading tech-focused e-retailer in North America, with a global reach in Europe, South America, Asia Pacific, and the Middle East.
Today, millions of customers turn to Newegg to shop for the latest PC components, consumer electronics, smart home, and gaming products. Newegg is consistently ranked as one of the best online shopping destinations, and the company regularly earns industry-leading customer service ratings. Newegg is headquartered in the City of Industry, California, with North American distribution facilities throughout the United States and Canada.
Newegg Alternatives
If you're looking for alternatives to Newegg, you can check out Amazon and Best Buy.
Newegg FAQs
1. Is Newegg a Reputable Brand?
Newegg is a long-established brand with millions of satisfied customers. Lately, Newegg hasn't been so reputable, though. They've been hit with scandals regarding their returns policy. They famously sent a used part reported damaged to journalists at Gamer's Nexus. When Gamer's Nexus attempted to return the part, New Egg refused the return stating that the piece was destroyed. After getting caught, Newegg promised reforms.
2. Is My Data Safe When Using Newegg's Website?
According to the website, "security is a top priority at Newegg. When you submit sensitive information via the website, your information is protected online and offline.
Their eCommerce infrastructure is on high availability to provide customers non-interrupted 24/7 shopping experience. All sites are firewall-protected with an intrusion prevention system. A dedicated team monitors the firewalls and sites for performance and irregular activities 24/7.
All Newegg servers, including web and database servers, are housed and maintained in secure data centers. All servers are firewall protected from internal and external access. Access to the database is strictly monitored. All backups are securely stored in the vendor's offsite storage.
Newegg uses Transport Layer Security (TLS) to secure all transmissions between customers and us. Sensitive information, including credit card numbers and login credentials, is securely transmitted to us thru TLS. Newegg encrypts emails in transit via STARTTLS when available, which deliver mail securely and prevent eavesdropping and spoofing between mail servers.
All credit card information is encrypted. Newegg employs salted password hashing for all customers' login credentials.
Access to all of our customers' information is restricted. Only employees who need the information to perform a specific job can access personally identifiable information. All-access activities are logged and reviewed regularly.
Newegg operates in a secured and locked facility that requires all employees to check in and wear valid ID badges. Security cameras are positioned throughout the building in conjunction with multiple alarm systems.
All employees are updated with the latest information on our security and privacy practices. Every quarter, as well as any time new policies are added, our employees are notified and reminded about the importance we place on privacy and what they can do to ensure that our customers' information remains protected."
3. How Long Does Newegg Take to Ship
Newegg has 3 Day, 2 Day, and Next Day Shipping. Delivery time is measured in business days.
Newegg works with several professional shipping carriers; your order will be shipped by the courier that can best meet the estimated delivery time.
Large Item Delivery and White Glove Delivery
Both delivery methods are designed for large items, like TVs or appliances. White-Glove Delivery, however, features room-specific delivery plus unpacking and optional disposal of packing material. Please visit the FAQs for Large Item Delivery and White Glove Delivery for more information on Large Item Delivery and White Glove Delivery.
The carrier will schedule deliveries before delivery. Once designed, the delivery time frame is usually within 3 to 5 business days for most items, delivery within 7 to 10 business days for Major Appliances. Rural locations may require up to 13 business days for delivery.
Large Item Delivery is unavailable to AA, AE, AP, HI, AK, PR, and some unique locations, such as specific islands.
An adult signature is required to certify acceptance of delivery.
For Front Door Delivery, the driver will bring the item to your front door and will not unpack the item.
For White Glove Delivery, the driver will bring the item into the room of your choice, unpack the item, and dispose of any packaging you do not want (this is not always recommended if you need to return the article).
Newegg Ground
Estimated delivery is within 1-5 business days.
This shipping method is only available for select restricted items shipped by ground.
P.O. Boxes – We do not ship to standard P.O. Boxes. However, we can ship to residential P.O. Boxes in rural areas.
Super Eggsaver Shipping
Estimated delivery within 4 to 7 business days.
Super Eggsaver may use more than one shipping carrier to deliver your package. Some airlines will provide directly from us to you, while others will ship it part of the way, then hand off your package to USPS for final delivery.
Super Eggsaver shipping is the only available service for PO BOX addresses.
Super Eggsaver shipping is unavailable for Alaska, Hawaii, Puerto Rico, or APO/FPO/DPO addresses.
Not available for all products or warehouses at this time. Alerts will be presented during the checkout process.
The maximum package weight is 150 pounds.
The maximum order price is $2,000.00.
APO/FPO/DPO Shipping
Delivery will take approximately 2 to 6 weeks.
Due to size limitations, safety, and carrier restrictions, some items, including the items listed below, are not eligible for APO/FPO/DPO Shipping:
Monitors 19" and larger

DVDs

Items containing lithium batteries

Large or hazardous items

Items shipped by a Marketplace seller"
4. What Are Newegg's Shipping Costs?
To calculate the shipping cost for your order, continue through checkout to the Delivery stage: all available shipping methods and fees.
5. Where Is Newegg Located?
Newegg is headquartered in the City of Industry, California, with North American distribution facilities throughout the United States and Canada.
6. Where Does Newegg Ship From?
Newegg currently operates a fleet of Newegg Express delivery vehicles to deliver thousands of orders per day. The Newegg Express delivery fleet covers most of Southern California, from Calabasas to Redlands, to as far south as San Diego, serving a large portion of the population in San Diego, Orange, Los Angeles, Riverside, and San Bernardino counties.
7. Are Newegg Specs Accurate?
The specs on electronic devices are typically accurate, although the manufacturers may have tested the appliances under ideal conditions.
8. What Is Newegg's Refund & Return Policy?
Refunds will be credited back to your original payment method. Once your return has been processed, please allow 3-5 business days for your refund to post to your account. If the original payment method is no longer available, Newegg will mail you a check to the billing address listed on your account. For returns for refunds for items purchased as gifts, Newegg will issue you a refund in the form of store credit. For returns for refunds for items purchased through Bitpay, Newegg will give you a refund in the form of a Newegg gift card.
Returns Processing, please allow 2-4 business days for products "Sold and Shipped by Newegg" and "Shipped by Newegg" to be processed after being received. For 3rd party marketplace orders "Sold and Shipped by Seller," please allow up to 10 business days to process your return. Due to item availability, some repair/replacement returns may be delayed or changed to refund. Once your return has been processed, we will send you an email regarding your return. 
9. Does Newegg Have Good Customer Support? How Do I Reach Them?
"Our Newegg Customer Service team is standing by to assist.
Call Us at 800-390-1119.
Phone Hours:
Monday – Friday: 5:30 AM – 5:30 PM PT"