Nomorobo Reviews 2023 – Is It Legit & Safe or a Scam?
This post contains affiliate links which means if you click on a link and purchase an item, we will receive an affiliate commission at no extra cost to you.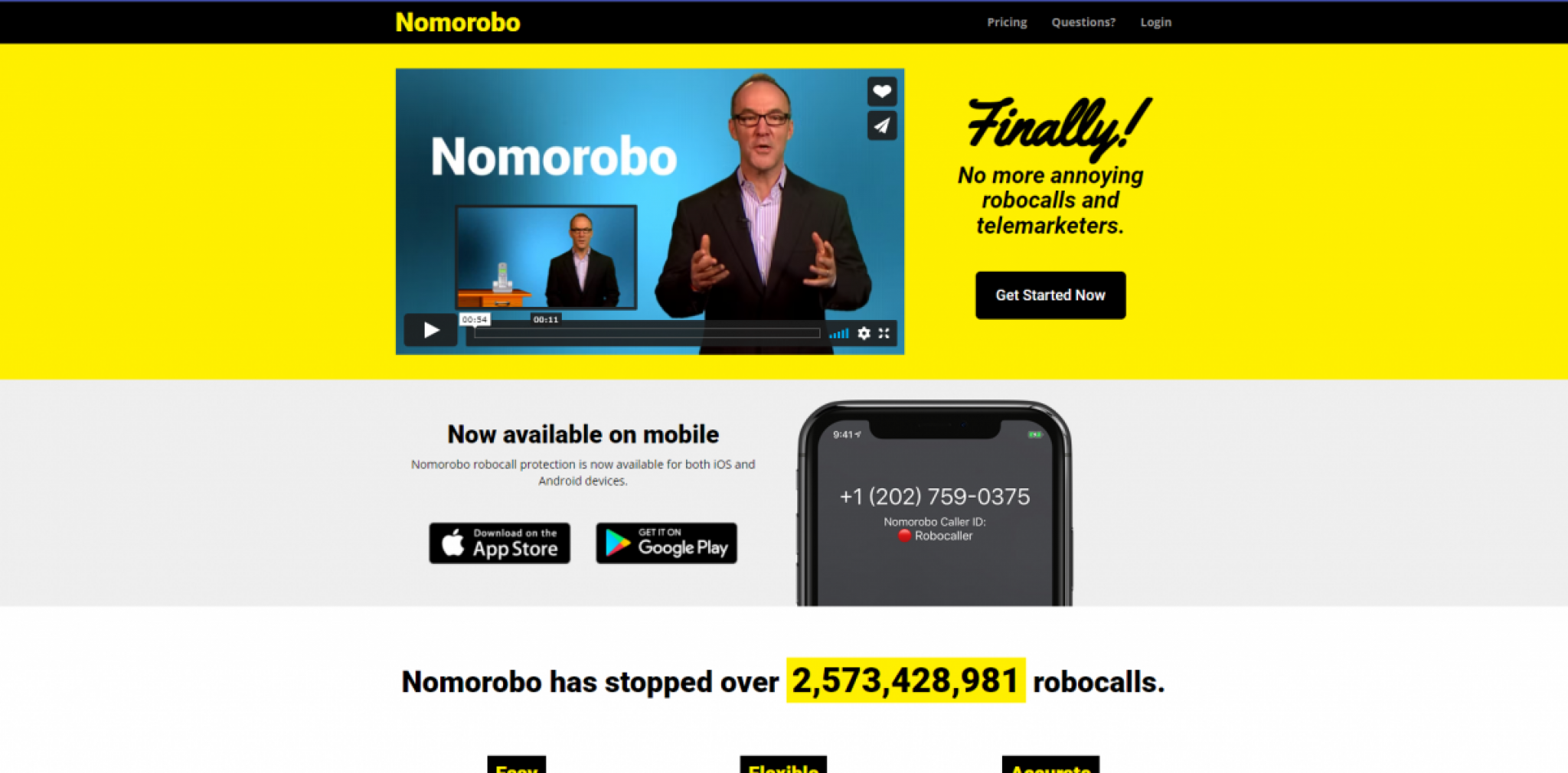 Nomorobo Reviews 2022 - Is It Legit & Safe or a Scam?
"Nomorobo is a screening service that blocks the vast majority of robocalls. These calls are the autodialed phone calls that advertisers and scammers use to target thousands of consumers per hour.

Robocalls have long been a problem and there are a number of competing services that promise to reduce the call volume. Nomorobo is one of the cheaper options and even has a free tier that only works with landline phones.

Our Recommendation: We don't recommend Nomorobo. While Nomorobo isn't a bad service, there are better options. RoboKiller has much better features and blocks a wider variety of calls."
Safety, Reliability, and Trust
9
PROS
The basic plan is free
Most robocalls are blocked
You can allow legit services to contact you
CONS
You may still receive some calls
A subscription is required for advanced services
Some competitors are a better value
Add your review
My Experience With Nomorobo

I don't think anyone likes robocalls, but everyone is swamped with them. Robocalls are a scourge. They are the most unwanted of all phone calls and they are becoming increasingly common. A robocall is a phone call that is made using an autodialer, or an automated dialing system. Robocalls have become so popular in recent years because they are cheap to make and easy to make.

Robocalls are used for many different purposes, but the most common use is to sell products or services over the phone, which can be anything from credit cards to weight loss programs. Some companies even use robocalls as a way of collecting data on their customers, by asking them questions about their preferences or buying habits.

Robocalls have been around since the 1960s, but recently there has been an increase in their frequency and duration. It is because of this that people are looking for ways to stop them from happening.

The number of robocalls is increasing every year, and it's not just because there are more telemarketers out there. There is a technology that allows these companies to send out thousands of calls per second for a fraction of the cost. This technology also allows them to make their calls seem like they're coming from a local area code so that you answer them, making them even more difficult to avoid.

There are many ways to stop robocalls. One way is by using call blocking technology that can block specific numbers or all unknown numbers from getting through to your phone. Another way is by using apps like Nomorobo which will screen calls before they reach your phone and allow only those you want to get through.

Eventually, I'd had enough. I'd read a few Nomorobo reviews, and it seemed legit. Reviews of Nomorobo usually focus on their ability to block sales calls but allow really important calls to go through. That sounded perfect to me!

I downloaded NomoRobo onto my iPhone, and set it up. The installation process is painless, and it's easy to setup the subscription on Apple or Android devices. The great thing is that the service is working best when nothing happens. No annoying phone calls, adds, or scammers trying to steal money.

There are legit reasons to get robocalls, though. Your doctor may set up an automatic appointment reminder, for example. That's why Nomorobo allows legit robocalls and works hard to screen and block the bad actors. As long as there's a legit reason for the call, it'll go through without any hassles.

Some bad calls do go through. Scammers are always changing their phone numbers and trying to cheat the system. That's why the National Do Not Call list doesn't always work. No service is ever going to be perfect but the service blocks the vast majority of calls. It even works with political campaigns. Anyone who's ever lived in a battleground state knows how intense those ads can get right before major elections.

In the end, there are better options, though. The best one seems to be RoboKiller, which is slightly more expensive but offers more features. RoboKiller has a huge database of scammers that includes more than 1.5 million phone numbers. In addition, they create transcriptions for you and allow real-time call screening.

Whatever service you decide on, blocking annoying phone calls is definitely worth a small subscription fee. Keep in mind that you'll also be blocking scammers who are looking to steal money from you. 

Reviews of Nomorobo aren't bad, but I think they need to step it up a bit if they want to compete with the best available services. Protecting your phone is just as important as anti-virus software, so it's worth going with an all-in-one solution.
What is Nomorobo?
According to the website, Nomorobo was built from the ground up to be consumer friendly. They don't bombard you with ads and we don't track you. Their only job is to protect you from criminals that try to invade your digital life. That's their promise to you.
They never upload your address book or share your personal data with anyone. Your friends and family are your business, not theirs.
Nomorobo Alternatives 
If you're looking for better service, try RoboKiller.com
Nomorobo FAQs
1. Is Nomorobo a Reputable Brand?
Yes. Nomorobo is a leading robocall blocker.
2. Is My Data Safe When Using the Nomorobo Website?
According to the website, 100%. We are a privacy-first company and are completely ad-free. We never upload your address book to our servers or share your personal information with anyone.
3. How Long Does Nomorobo Take to Ship?
There's nothing to ship. Just install the app using the Google Play Store or Apple App Store.
4. What Are Nomorobo Shipping Costs?
Nomorobo is an internet-based robocall blocker. They won't ship anything to you.
5. Where Is Nomorobo Located?
5507-10 Nesconset Hwy #201
Mount Sinai, New York, 11766,
United States
631-435-8710
6. Where is Nomorobo From?
Nomorobo is located in New York in the USA.
7. Are Nomorobo Sizes Accurate?
Nomorobo blocks unwanted phone calls. You can find all of their plans at https://www.nomorobo.com/#pricing.
8. What Is Nomorobo Refund & Return Policy?
To request a refund, please follow the instructions here: http://www.imore.com/how-to-get-refund-itunes-app-store#ios
To request a refund for an Android phone, please email [email protected] with a copy of your original receipt of purchase AND a copy of your cancellation confirmation. 
9. Does Nomorobo's Have Good Customer Support? How Do I Reach Them?
Nomorobo has a ticket system for customer service. Submit your request for assistance at https://nomorobo.zendesk.com/hc/en-us/requests/new