This post contains affiliate links which means if you click on a link and purchase an item, we will receive an affiliate commission at no extra cost to you.
Rate Your Seats Review: Fees? Legit, Reliable or a Scam?
RateYourSeats is a ticket reseller that has a reputation for sometimes overcharging for event tickets. The site doesn't have a decent selection of tickets though. After reading more than 50 reviews, we don't recommend using RateYourSeats to purchase legitimate tickets to any event or outing.
Our Recommendation: If you're looking to get the best seats or the best price then we recommend using SeatGeek because it tends to have much lower prices and a better selection of tickets and events than Rate Your Seats.
Add your review
|
Read reviews and comments

SeatGeek
We recommend SeatGeek because it tends to have the largest selection of tickets and lowest prices.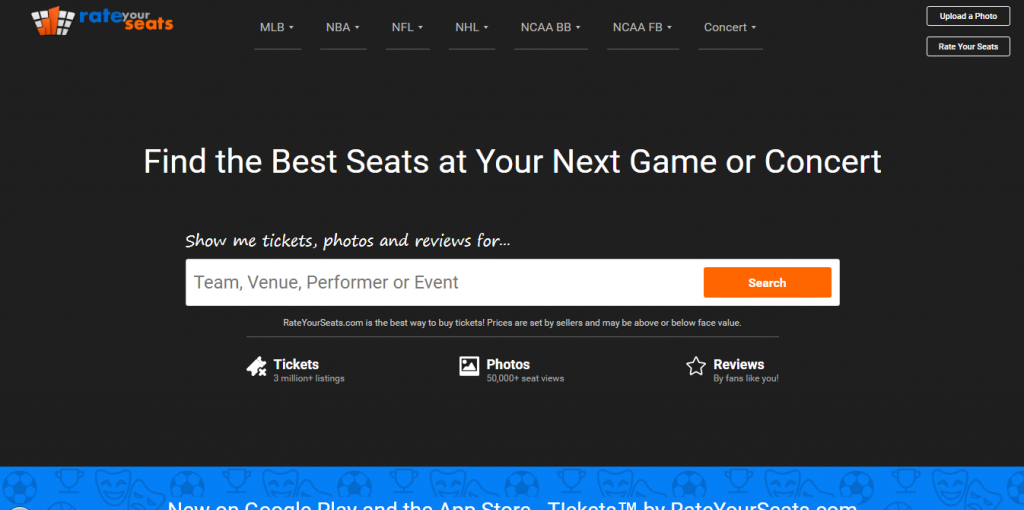 My Experience with Rate Your Seats
Buying or selling tickets is always on my agenda as someone who makes a bit of their living doing such. I have spent the majority of my time lately on ticket sites, and Rate Your Seats is no exception.
Unlike most other ticket sites, Rate Your Seats seems to be more geared toward sporting events rather than concerts or musicals. In fact, Rate Your Seats doesn't even suggest any plays or musicals (even though tickets may be available). Rather, they suggest any and all sports events with a dash of concerts.Since Rate Your Seats was screaming for me to buy sports tickets, that's what I aimed to do.
The first event I chose a ticket for, I was super excited about since it was the Denver Broncos Draft Party. The page to choose my tickets began to load, but it ended up informing me that there were no tickets available. This was a bummer because it was the only spring event I had seen for the Broncos, and I would have to go elsewhere for my tickets.
Since the Draft Party was a no-go, I opted to see what I could get for the first preseason home game in Denver. The first home game would take place about four months from the day I was purchasing tickets, so I figured I had a fair chance of getting tickets I wanted.
Broncos vs 49ers was the first home game. I clicked to see what tickets were available, claiming to start at $57. A huge map scattered with different colored lines and dots greeted me. This seemed like a good sign since all of those little dots equated to seats available. The tickets actually started at $35 each which was a nice surprise. This also didn't seem too pricey to me, even for a seat way up in the stands.
As I moved through the ticket listings, I realized that there were quite a few useful ways to sort my tickets: price, SeatScore, deal, and row. Every ticket available was given a score out 100 regarding its deal value and a score out of 4 for its placement. With ordering tickets this early, even the cheap tickets had a really good SeatScore. I did notice that some tickets seemed outrageously priced compared to similar tickets on the site; these tickets, however, had a low SeatScore or weren't scored at all, making it easy to spot where I would be getting overcharged.
When I went to choose my seat using the interactive seating chart, I was pleasantly surprised to be given a view of the field from my seat. I knew exactly where I would be sitting, what could obstruct my view, and even what angle I would be viewing the game. This was a cool feature that I wish more ticket sites would use (and use accurately).
I proceeded to the checkout with two end-zone tickets that were about $98 a piece with a SeatScore of 3.3 out of 4 and a deal rating of 98 out of 100. Everything seemed right to me. It wasn't until I started to input my credit card information that the total was updated from the original price prediction and all of the fees were added. To be fair, the service fees seemed reasonable, but I would always rather see those fees upfront. There's something about a ticket site that throws in those fees last minute that makes me want to "x" out completely and look somewhere else.
Rate Your Seats claims to have a 100% Buyer Guarantee, but I couldn't find anything detailed concerning that guarantee. The overview of the buyer guarantee mainly states your tickets will be refunded if the event is canceled or rescheduled, but it states nothing regarding a situation whre the tickets come out fraudulent or don't show up on time, which is a big concern when it comes to resale ticket sites.
Nothing about Rate Your Seats stood out to me, good or bad. It's a ticket site that seems to be doing what most other ticket sites are doing, meaning there will always be a bit of a gamble involved.
Pros:
App available on Google Play and App Store.
Can see available tickets in the map online
Cons:
Overpriced tickets
Higher processing fees than most ticket resellers
What Are Rate Your Seats's Service Fees:
Unfortunately Rate Your Seats tends to have very high checkout fees.
RateYourSeats.com is the best way to search, compare and buy tickets. We crowd-source photos, ratings and reviews for hundreds of sports and concert venues. We combine those data with millions of aggregated ticket listings to make recommendations on where fans should sit at their next game or show.
About WebsiteReviews
If you're looking for the best online reviews for Rate Your Seats or other websites then you've come to the right place. We do comprehensive breakdowns of whether certain companies are legit, trustworthy, reliable or are pure scams. We often frequently feature coupon or promo codes so that you can get the biggest possible discounts when making your online purchase. It's rare that websites such as Rate Your Seats are pure scams but if they are then we'll let you know and if they aren't we'll make sure to detail why they are safe, legit and trustworthy to purchase from. Happy shopping!

SeatGeek
We recommend SeatGeek because it tends to have the largest selection of tickets and lowest prices.