Tophatter Reviews 2023 – Is It Legit & Safe or a Scam?
This post contains affiliate links which means if you click on a link and purchase an item, we will receive an affiliate commission at no extra cost to you.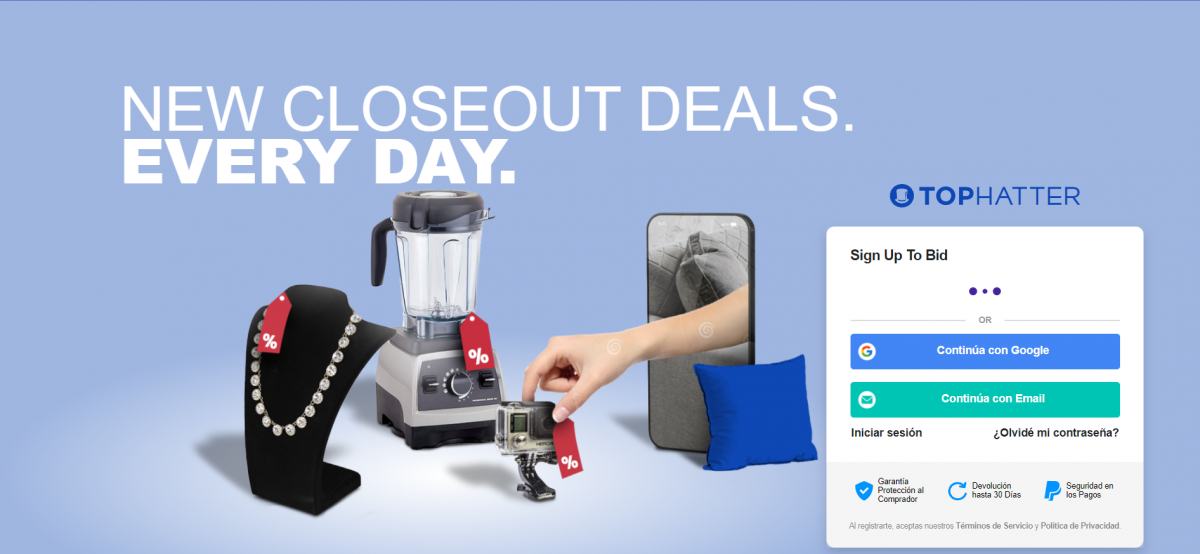 Tophatter Reviews 2022 - Is It Legit & Safe or a Scam?
"Tophatter is an auction website that specializes in low cost goods. These items are typically similar to the goods sold in discount stores..

Fans enjoy the auction process and the low prices. Detractors point out that the goods are typically extremely low quality and have heavy markups.

Our Recommendation: We recommend using Ebay instead. Auction sites are best used when something is rare and unusual. Ebay is the clear market leader."
Safety, Reliability, and Trust
5
PROS
Prices are low
Auctions are fun
Product descriptions are usually accurate
CONS
Quality is low
Similar items are much cheaper offline
The site doesn't typically feature unique or special items
Add your review
My Experience With Tophatter
Tophatter is an online auction site where ordinary people buy and sell things. It is a one-stop shop for all your shopping needs. You can find anything from clothes, to electronics, to household items, and more.You can also find some pretty amazing deals on the site, which is why it attracts so many buyers and sellers.Tophatter has a good selection of items for sale and the best part is that you can bid on an item that you like.
Tophatter has grown significantly since its inception, with many users from around the world and thousands of items being sold every day. Typically these sellers are selling low quality merchandise for extremely high markups.
Tophatter is a great place for anyone who has been itching to try out an auction site but doesn't know where to start. It's easy and fun! It's a lot of fun to browse through the items and see what you can find. You can also filter your search by category or by price range if you're on a budget.
My experience with Tophatter was almost an accident. I had a little extra money and I was curious, so I spent 15 dollars on a necklace for my sister's birthday. Of course, at that price I knew the goods were fake, but my sister likes costume jewelry anyways.
I had always wanted to try an auction site, but I didn't know where to start. To their credit, Tophatter makes this part easy. If you've never tried an auction site before, Tophatter makes it easy for you to get started. All you need is your email address and a few bucks in your account balance.
Unfortunately, they don't list all of the costs associated with buying and selling on the site. In my case, the fees and shipping costs ended up eating up any potential profits. 
Tophatter uses a bidding system where bidders can make offers for an item until the time runs out, or until someone else offers more than them. The company does this because it believes that everyone deserves a chance at winning something and not just those who are willing to spend more money on bidding.
The site offers a variety of categories to browse through, including fashion, cars, electronics, appliances and more. You can also find auctions by category or location on this site. The bidding process is very easy and straightforward on Tophatter as well.
While Ebay has built a business around offering hard to find items that would be impossible to buy at a store, Tophatter auctions are more mundane. You may find yourself bidding on a few bottles of nail polish or silver-plated jewelry of the sort found in discount stores. 
The main reason Tophatter sellers use the site to sell low-quality merchandise is because of extremely high fees. Rather than one simple fee, Tophatter hits sellers with many small fees which add up to about 35%. Add in shipping fees and business expenses, and it's safe to say that making money on Tophatter is nearly impossible. Basically, the site relies on many small sellers who may not account for all of the expenses.
This is the main reason that Tophatter reviews are honestly, pretty awful. The Better Business Bureau rates Tophatter at just  2.45/5, with hundreds of complains about fake merchandise and poor customer service.
If you're looking for unique goods and a professional auction site, you should really use Ebay. While there are many ecommerce opportunities, auctions are a bit niche. It's best to use a professional site if you're looking for something special.
What is Tophatter?
Tophatter is an auction site where you can buy inexpensive jewelry, nicknacks, and clothes.
Tophatter Alternatives 
If you're looking for an alternative to Tophatter, we recommend that you try out eBay.com.
Yandy FAQs
1. Is Tophatter a Reputable Brand?
Tophatter has it's share of fans, but it holds a 2.45 rating from the Better Business Bureau.
2. Is My Data Safe When Using Tophatter Website?
Yes. Tophatter uses secure data storage methods and has a good track record with customer data.
3. How Long Does Tophatter Take to Ship?
Individual sellers will send the products to you. You can generally expect delivery in less than one week.
4. What Are Tophatter Shipping Costs?
Domestic items aren't very expensive to ship, but due to the low prices at Tophatter, you may find yourself paying more for shipping than you did for the item itself.
5. Where Is Tophatter Located?
Tophatter is located in San Fransisco.
6. Where Does Tophatter Ship From?
Individual sellers will ship from their own locations.
7. Are Tophatter Sizes Accurate?
Yes, you will generally get merchandise that matches the product description.
8. What Is Tophatter's Refund & Return Policy?
Tophatter has buyer protection, although buyers report a lot of problems with it. 
9. Does Tophatter's Have Good Customer Support? How Do I Reach Them?
Email Tophatter at [email protected]. Their mailing address is:
Tophatter Inc. 185 Berry St.
Suite 2400
San Francisco CA 94107