Treasure Trooper Reviews 2023 – Is It Legit & Safe or a Scam?
This post contains affiliate links which means if you click on a link and purchase an item, we will receive an affiliate commission at no extra cost to you.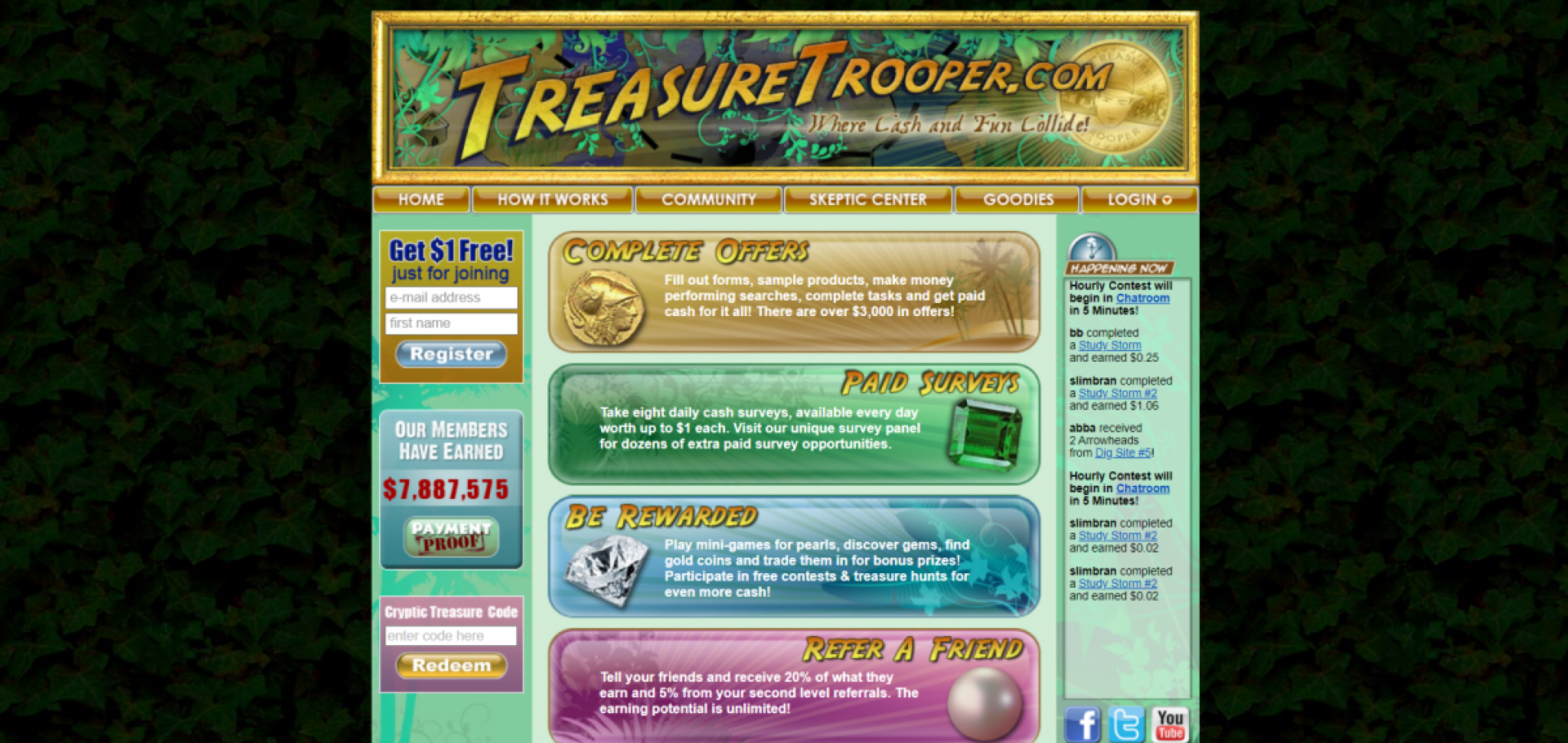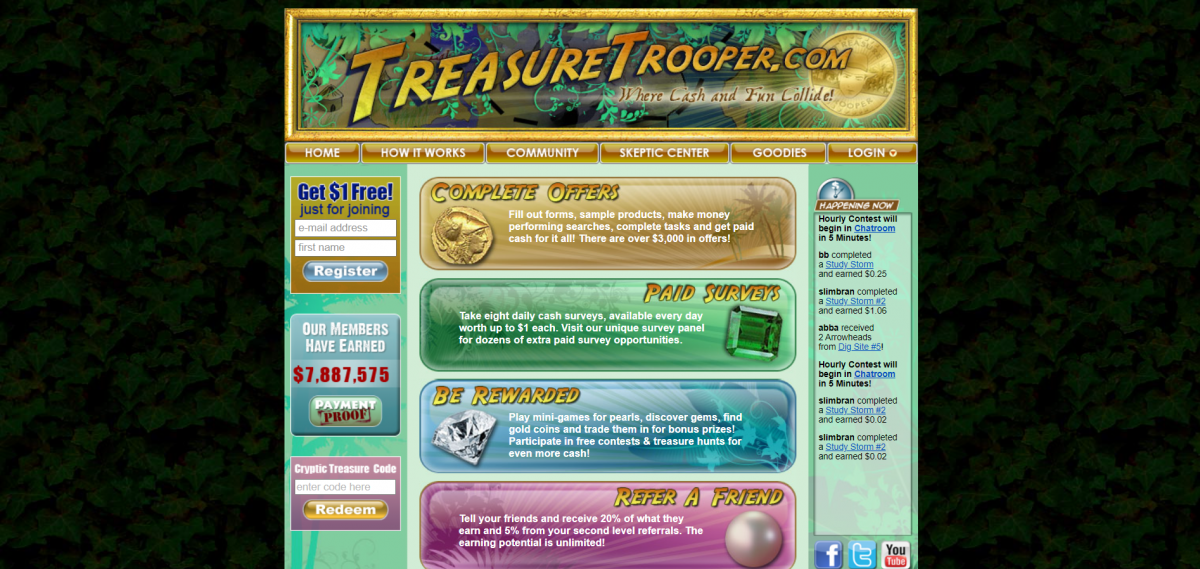 Treasure Trooper Reviews 2022 - Is It Legit & Safe or a Scam?
"Treasure Trooper is a GPT website that gives people small tasks that can be completed for real money. The jobs usually only take a few minutes, so you need to string together a lot in order to make decent money.

The website is extremely old and seems like a throwback to the early 2000's. However, people still make money there everyday.

Our Recommendation: We don't recommend Treasure Trooper. They just haven't done a good job of keeping up with larger rivals like Swagbucks.com."
Safety, Reliability, and Trust
5.5
PROS
You can earn real money
Treasure Trooper has been active for decades
Referral payments can be great if you have an active network.
CONS
The site is outdated
Better competitors have more jobs
It's difficult to get enough tasks
Add your review
|
Read reviews and comments
My Experience With Treasure Trooper
Treasure Trooper is a site where you can earn some extra money by participating in different online offers. They have thousands of offers that you can choose from, and they are always adding new offers every day. You can make money with Treasure Trooper by doing things like searching the web, answering surveys, or even downloading apps.
You can also make money on Treasure Trooper by referring friends to the site and getting a cut of their earnings. This is similar to other multi level marketing schemes. You will earn 20% of any money your referrals make, and 5% of their referrals. There's no limit to how much money you can earn this way.
The site offers a variety of tasks that are available for users to complete. These tasks range from simple to more complicated and time-consuming ones. Sometimes the simple ones are the best way to make money, because you can do so many of them. Keep in mind that you'll eventually run out of tasks though. That's one reason people use a lot of these GPT sites and eventually dip into less profitable tasks.
Treasure Trooper isn't as popular as  some other sites but it has its own advantages as well. It's also very easy to use and has a simple signup process. The site and its tasks sometimes seem like a throwback to 2005 when it first started. The design is extremely old, and AOL Buddy icons are still featured on the first page. Still, there are people earning money on the site everyday, so it's legit.
I signed up for Treasure Trooper and did a few of the easier tasks. I got a message with a link to an offer on Groupon. I was given the task of looking at Groupon's website and telling them if they were offering any deals that I might be interested in.
I clicked on the link and saw that there were some deals that looked interesting, but most of them were for things that I didn't really want to buy such as clothes or furniture. It was not too difficult to find a deal worth sharing, but it would have been more difficult if there had been no offers available at all. Sometimes that can happen, and you find yourself running up against a roadblock. Those kinds of tasks can waste a lot of valuable time.
I signed up for treasure trooper and did a few of the easier tasks. I was able to get some money back on my grocery shopping and I got a free gift card for a restaurant. The tasks seemed to be easy enough that I could do them in between other things that I was doing, like laundry or cleaning the house.
I can't imagine trying to do enough tasks to make serious money, but it's not bad if you look at it as a profitable little game. Every little bit helps, right?
In the end, I felt like the tasks were not difficult enough that they took too much of my time and it was easy to find them on their website. The app is really user-friendly and you can set reminders so you don't forget when you need to do them.
Treasure Trooper isn't bad, but there are better options available. The market leader is Swagbucks.com, though, and there are a lot of good reasons. Do yourself a favor and check Swagbucks out before you dip into older and less profitable alternatives.
What is Treasure Trooper?
According to the website, TreasureTrooper is a free service that provides you with several money-making opportunities.
Treasure Trooper Alternatives 
If you're looking for a Treasure Trooper Alternative, try out Swagbucks.com.
Treasure Trooper FAQs
1. Is
Treasure Trooper
a Reputable Brand?
According to the website, TreasureTrooper is a free service and will never cost you anything to participate. You must be at least 13 years old and agree to our terms and conditions. However, when completing offers, please read the terms of each advertiser as they may have different requirements.
2. Is My Data Safe When Using
Treasure Trooper
Website?
TreasureTrooper takes every measure to protect and keep confidential your personally identifiable information. Your information will not be sold, transferred, or otherwise disclosed to outside parties except as outlined in section VII below. In the event of a sale of the entire company, all data will be transferred as part of the transfer of ownership.
3. How Long Does
Treasure Trooper
Take to Ship?
Swagbucks will never send anything to your physical address.
4. What Are
Treasure Trooper
Shipping Costs?
There aren't any shipping costs.
5. Where Is
Treasure Trooper
Located?
Treasure Trooper doesn't list a physical address.
6. Where does
Treasure Trooper Ship
From?
They don't ship anything.
7. Are
Treasure Trooper
Sizes Accurate?
The tasks and payouts are accurate.
8. What Is
Treasure Trooper
's Refund & Return Policy?
There aren't any refunds to worry about.
9. Does
Treasure Trooper
's Have Good Customer Support? How Do I Reach Them?