Zappos Reviews 2023 – Is It Legit & Safe or a Scam?
This post contains affiliate links which means if you click on a link and purchase an item, we will receive an affiliate commission at no extra cost to you.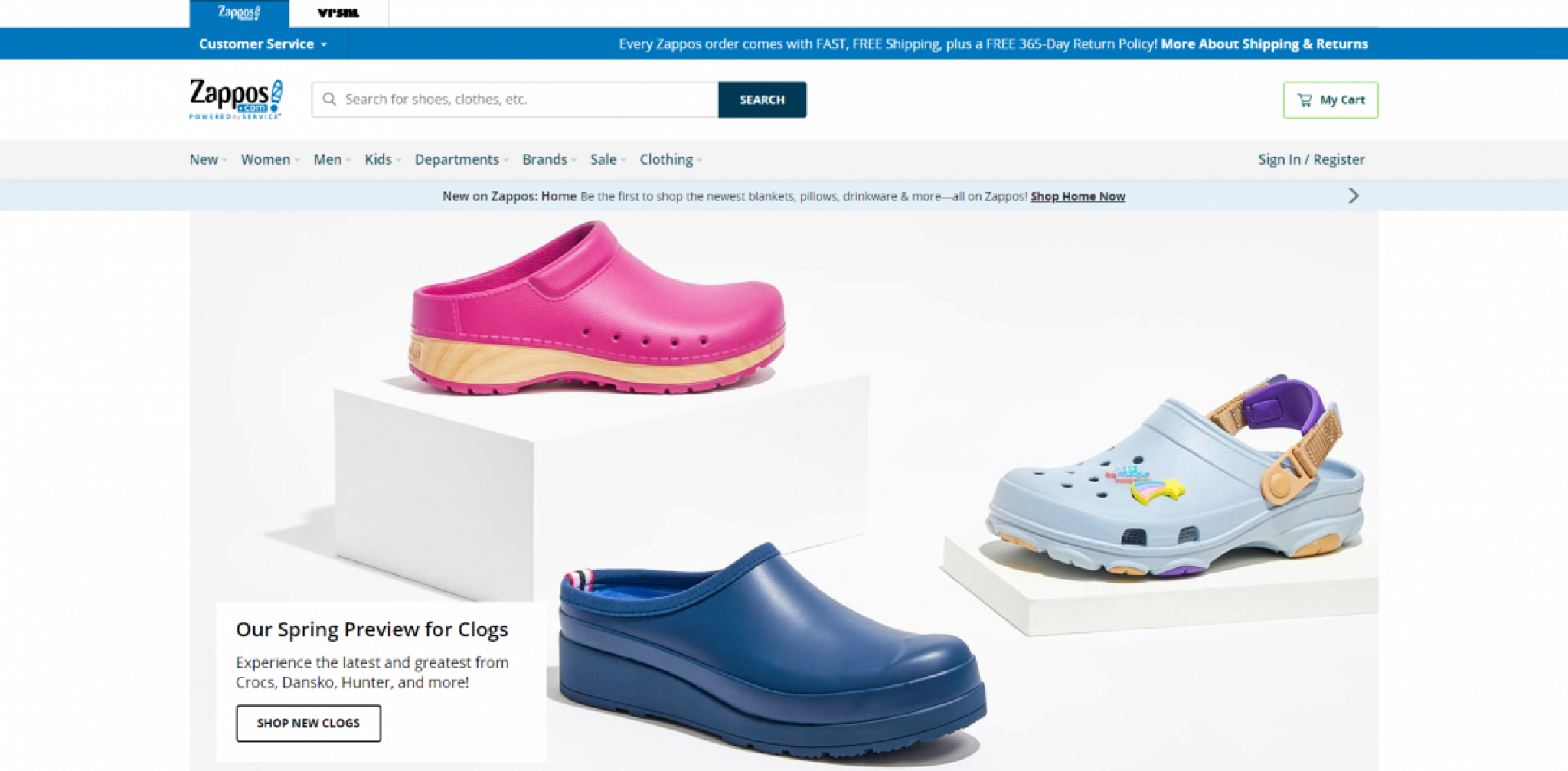 Zappos Reviews 2022 - Is It Legit & Safe or a Scam?
Zappos is one of the oldest and biggest shoe websites in the USA. Founded in 1999, they've been part of Amazon since 2009.

Zappos has high-quality premium shoes that look amazing. You'll find a wide range of trendy styles from top brands, and the 365-day no-hassle return is one of the best deals in the business.

Our Recommendation: We don't recommend Zappos unless you're willing to pay higher prices. Shoes get damaged quickly, which makes paying a premium difficult for most types of shoes. Try Walmart instead.
Safety, Reliability, and Trust
10
PROS
Outstanding quality, especially for women's shoes
365-day return policy
Easy, no-hassle customer service
CONS
Prices are higher than at competitor websites
Expedited shipping requires an Amazon Prime membership
Discounts and sales are rare
Add your review
My Experience With Zappos
Zappos is one of the original online shoe sites in the USA. The store was founded in 1999 by Tony Hsieh and Nick Swinmurn and has become a household name for both millennials and baby boomers. They're based in San Francisco and have only continued to expand since being bought by Amazon in 2009.
Since they're so well known, it's easy to say that Zappos is legit. The only real question is whether their excellent reputation for customer service extends to low prices! Unfortunately, this is where things get tricky.
I was bored at work, looking at shoes the first time I bought anything from Zappos. I guess since they're owned by Amazon, they must have a big advertising budget because I kept seeing Zappos ads on all of the review websites.
Zappos is one of the biggest shoe stores online. They sell shoes and clothing and offer 24/7 customer service. But they're best known for their incredible return policy: You can return anything, anytime, for any reason.
Curious, I looked into whether Zappos is trustworthy and read up on their story. The website is basically Amazon's high-end shoe retailer and has a major following with the Whole Foods crowd. Zappos seemed trustworthy, so took the plunge and clicked through one of the ads.
I was shocked at what I saw on the website. I was looking for some cute wedge heels and had a pretty good idea about normal prices and quality. Zappos shoes are amazingly cute, but they're definitely a little pricey.
A pair with woven heels and leather uppers were just too much to resist though. I tried not to think about my wallet as I put in the order, and consoled myself with the Amazon Prime free upgraded shipping. That's one thing about Amazon fulfillment—deliveries are always smooth and lightning fast.
My new shoes arrived two days later and I have to say, I wasn't disappointed in the quality. The leather was silky smooth, and I adored the weaving on the heels. Honestly, they've been my go-to casual heels for about 8 months and they're still going strong. They seem to actually look better as they earn the inevitable dents and dings!
Unfortunately, for the price, I could've gotten a lot more at Walmart, which is kind of the problem. Shopping around for the best prices is always smart, no matter what the product is. You can often find shoes that are the same price as or cheaper than the original manufacturer for similar quality. Shoes get dirty and scuff up pretty fast anyway, so you may as well get a good deal.
Even though the shoes are a little more expensive, they do have advantages. It's tricky to know how shoes will feel on your feet when you're shopping online which is why the Zappos 365-day return policy and top-notch customer service are so amazing. The shoes are a little higher-end too, which helps cut through some of the clutter.
If I had to do it over again, I might've gone with a cheaper pair of shoes. Having one nice pair of shoes is great, but I think I'd rather focus on something with more bang for the buck. I love being able to match my shoes to whatever outfit I'm wearing, and I just can't do that with shoes that cost several hundred dollars.
If you're looking for shoes that look great but are a little more wallet-friendly, I think you should probably go with Walmart. You'll get in-store pickup and service all over the USA, and the selection is pretty good on their website.
What Is Zappos?
Zappos is a Las Vegas-based online shoe and apparel shop. As of 2022, shoes account for 80% of the company's sales, with handbags and other accessories accounting for the other 20%. Zappos was launched in 1999 as Shoesite.com and was purchased by Amazon in 2009 for $1.2 billion.
Zappos Alternatives 
If you're looking for alternatives to Zappos, you can check out Walmart. 
Zappos FAQs
1. Is Zappos a Reputable Brand?
Yes, Zappos has been a part of Amazon since 2009. You're shopping with the world's biggest and most trusted company!
2. Is My Data Safe When Using the Zappos Website?
According to Zappos' privacy policy:
"We work to protect the security of your information by utilizing encryption methods during the transmission or storage of information you input through our websites and mobile applications. One hundred percent complete security does not presently exist anywhere online or offline, and we are unable to provide specific guarantees regarding the complete security of your personal information; however, we have a team of security professionals that work to safeguard your information.
It is important for you to protect against unauthorized access to your password and to your computer. Be sure to sign off and close your browser when finished using a shared computer. Only use trusted internet networks, including Wi-Fi, and do not share your login credentials with unauthorized parties."
3. How Long Does Zappos Take to Ship?
According to their shipping and delivery information:
"For standard shipping, you should receive your order within 4-5 business days. Amazon Prime members get free upgraded shipping!
Please allow additional time for shipments to U.S. Territories, PO Boxes, or Military APO/FPO addresses."
4. What Are Zappos Shipping Costs?
Zappos offers free delivery on all orders, regardless of the amount spent. It normally takes three to five business days for free delivery to arrive.
You can pay extra for expedited shipping if you need your product sooner. Two-day delivery costs an additional $15 per order, while one-day shipping costs an additional $25 per order.
Certain areas, such as Hawaii, Alaska, P.O. boxes, and others, are not eligible for expedited shipping. If you reside in one of these areas, your shipment may take longer."
5. Where Are Zappos Located?
According to their website:
"Zappos was born in San Francisco and raised in Las Vegas, and has been a resident of Southern Nevada since 2004. Because Las Vegas is a 24-hour city with a strong service sector, the choice to relocate was difficult at the time, but it was the right thing to do for our staff and customers.
In 2013, we had to shift once more. This time to the historic downtown Las Vegas building of the former Las Vegas City Hall. The entire office space was gutted and remodeled prior to our arrival to make it appear less like government and more like technology."
6. Where Does Zappos Ship From?
Zappos ships anywhere in the United States and to all US territories and military APO/FPO addresses.
7. Are Zappos Sizes Accurate?
Zappos uses standard sizes that should fit most people. If you have a problem, don't forget that they have 365-day no-hassle return policy.
8. What Is Zappos's Refund & Return Policy?
According to their FAQs section:
"If you are not completely pleased with your Zappos purchase, you can return it for a full refund within 365 days of receipt. Returns must be unworn, in their original packing, and in the same condition as when you got them. Some goods come with a security tag affixed. Returns without the original security tag or with a broken tag may not be eligible for a refund. Please visit the Zappos Shipping and Return Policy for additional details on returns.
Getting a pre-paid label by signing in to Zappos.com is the simplest way to return the product.
 To access your account, go to the website and click on "My Account" in the upper right corner.
Use your email address and password to access your account. 

Select the order number for the item you want to return. 

After checking the box to the left of the item(s) you want to return, click the Return Checked Item button. 

Choose whether the label should be shown for immediate printing or emailed if you can't print it right away. Then, at the bottom of the screen, click "Return Item(s)." 

An image of the item and a barcode will appear on the following page.

If you do not have the original packaging, please return the goods in a plastic bag with a copy of the return confirmation and place it inside the shipping box.

On this page, you may see and print it for immediate use. Click the orange "Click here to view your return label" link in the middle of the page to see your label.

Simply print it and use clear packing tape to secure it to your shipment box. Tada!"
9. Does Zappos Have Good Customer Support? How Do I Reach Them?
Here's Zappos' contact information:
"The Customer Loyalty Team is available 24/7 on all support channels for anything you need!
CALL the Zappos Customer Loyalty Team:

1-800-927-7671
TEXT the Zappos Customer Loyalty Team:

Text CHAT to 1-833-927-7898 to chat with the Zappos Customer Loyalty Team by text. By texting CHAT, you consent to receive text messages (including automated and marketing messages) from or on behalf of Zappos at your mobile number provided. Consent is not a condition of any purchase. Text STOP to end your chat. Message & data rates may apply.
CONNECT WITH LIVE HELP:

Ask your question right now with a member of the Zappos Customer Loyalty Team.

Go ahead – start a conversation now!

"