Zebit Reviews 2023 – Is It Legit & Safe or a Scam?
This post contains affiliate links which means if you click on a link and purchase an item, we will receive an affiliate commission at no extra cost to you.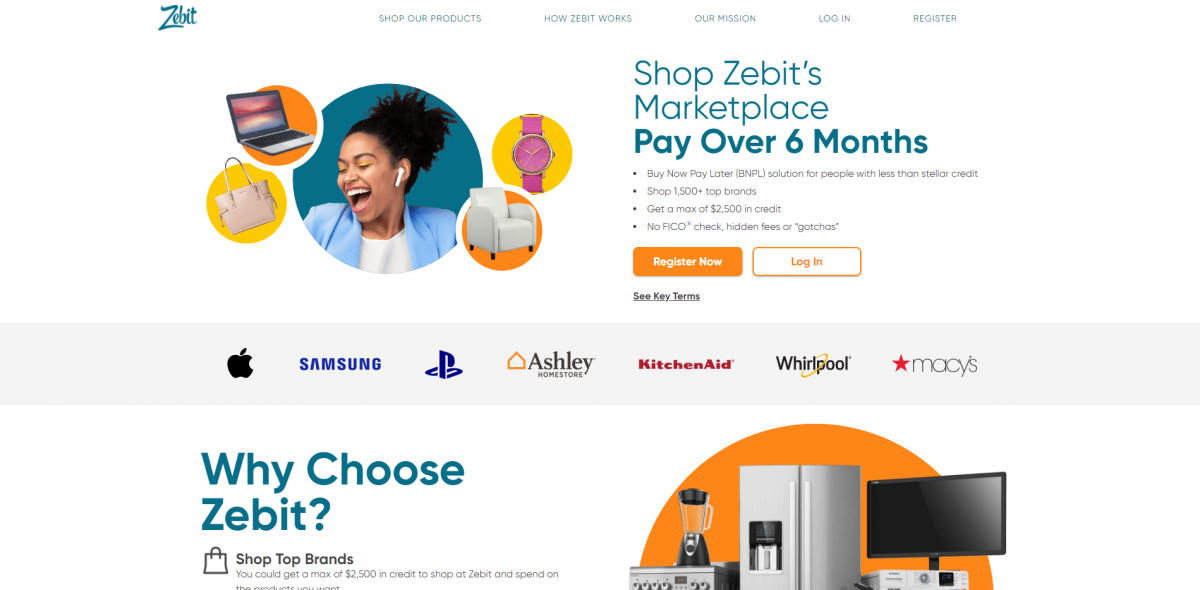 Zebit Reviews 2022 - Is It Legit & Safe or a Scam?
Zebit is an e-commerce site that sells popular fashions, electronics, and home items. They're famous for offering 0 interest payments without requiring a FICO score.

Zebit focuses on top brands like Apple, Samsung, and Whirlpool. Signing up and getting approved for credit is easy as long as you have a job, are retired, or have a disabililty.

Our Recommendation: We recommend Zebit because they sell high-quality products to customers at reasonable prices. Their payment terms are very good and really elevate Zebit into the top tier of e-commerce websites. If you're looking for alternatives to Zebit, you can check out Afterpay, Affirm, and Klarna.
Safety, Reliability, and Trust
10
PROS
Zebit doesn't perform credit pulls or report credit information to any major credit bureaus.
No FICO score is required.
No interest charges or fees.
CONS
You must be employed, retired, or receive disability benefits to sign up.
E-gift cards have an 18% handling charge.
Sometimes prices are higher than Amazon or Walmart.
Add your review
My Experience With Zebit
For the first year after the Playstation 5 came out, it was really hard to buy one. They were always sold out at every store. Scalpers were selling them for a lot of money, and people started camping out in front of stores, waiting for a restock.
I was one of those campers. I heard about the PS5 being in stock at a big box store in my state and drove around for hours until I found it. When I showed up, a hundred people were already lined up.
I was waiting in front of a big box store when I found out about Zebit. One of the other shoppers suddenly got excited and left the line. We all wondered what he was doing, so he showed us this cool website that had the Playstation 5 in stock.
I rushed to set up my account and managed to get a PS5 before they sold out. It was so quick and easy. Honestly, it only took a few minutes, and the website design helps make sure regular people get the best items. Best of all, I only had to put down 25% with the rest being paid interest-free over 6 months.
I found out that Zebit manages to keep hot electronic items in stock because they treat everyone like a person and don't just sell everything to scalpers. Since they're focused on building customer relationships, they prefer to let everyone get a chance to buy hot items.
Since then, I've bought a lot of other things with Zebit, including a blender, a laptop, and a new sofa. It's always convenient, and I love the way they treat me as a customer and a person. It's the kind of company that you want to do business with.
The prices aren't always the absolute lowest, but they're always competitive. Big stores can buy up a lot of items at super low prices, and that's difficult for smaller retailers to beat. But the difference is that Zebit will give you a competitive price combined with zero percent interest payments. They're also actually cheaper for categories like furniture.
I usually receive my purchases within about one week. They're not as fast as local stores or Amazon, but you'll be able to track your order in your account tab. It's honestly worth waiting a few days considering how cheap some of the items end up being.
I've only had to talk to customer service once. I had ordered an iPad and received the wrong color. They were really cool and understanding. They got me set up for an exchange and didn't even charge me extra. I was impressed with their speed and professionalism.
Zebit is an online marketplace that assists customers in locating the ideal product for their requirements. The company provides a hassle-free shopping experience, with a wide range of products, and great prices.
Zebit is great because it combines zero percent interest financing with high-quality shopping. It has a wide selection of items, including electronics, furniture, and home appliances. These are high-quality items by top brands like Samsung, Apple, KitchenAid, Whirlpool, and Sony.
Zebit has a lot of fans because they're committed to making shopping affordable and easy for normal people. Their prices are very reasonable and they don't take advantage of people with poor credit.
I strongly recommend that you check out Zebit. They make everything super easy and convenient for normal people. They're out to prove that being a good guy is the best way to make money, which is something that I can totally get behind.
What Is Zebit?
Zebit's mission is to make online shopping inclusive for everyone, regardless of their financial history. They achieve this by selling the brands customers love and offering the ability to pay over time without any hidden fees or penalties.
Key pillars Zebit stands by:
No Boundaries – Shop how, when, and where you want for your daily purchases

No Harm – Zebit is an e-commerce retailer that rewards positive repayment behavior with financial growth and stability

No Nonsense – Zebit uses simple and transparent language to earn the trust of our customers
Zebit is constantly striving to improve its offerings to become the most trusted eCommerce brand in your wallet, which anyone can be proud to use and endorse.
Zebit Alternatives
If you're looking for alternatives to Zebit, you can check out Afterpay, Affirm, and Klarna.
Zebit FAQs
1. Is Zebit a Reputable Brand?
Zebit is a marketplace with thousands of top brands where you can buy now and pay over six months. Their goal is to make buying and paying back as easy as it can be, so you get to enjoy the shopping experience worry-free.
2. Is My Data Safe When Using Zebit's Website?
According to their privacy policy: "Zebit maintains physical, electronic, and procedural safeguards designed to safeguard your personal information. You are responsible for keeping your password confidential, and they ask you not to share it with anyone. Unfortunately, the transmission of information via the Internet and mobile platform is not completely secure, and we cannot guarantee the security of your personal information, other information we collect, or automatically-collected information. Any transmission of information is at your own risk, and Zebit is not responsible for circumvention of any privacy of security measures we provide."
3. How Long Does Zebit Take to Ship?
According to their shipping timeframe: "Zebit does not have its own warehouse and uses a network of suppliers to ship products directly to our customers. Orders for physical products (not eCertificates) are typically shipped within 3-5 business from order placement. Physical product orders will typically arrive at the customers' location within 7-10 business days (Mon – Fri) from the time of order placement. When your items ship, we will send you an email with tracking information."
4. What Are Zebit's Shipping Costs?
Shipping costs will be included in the price you see when you buy the item. There won't be any hidden surprises. Zebit commits to keeping costs low.
5. Where Is Zebit Located?
Zebit, Inc. is located in Carlsbad, CA, United States and is part of the Electronics and Appliance Stores Industry. Zebit, Inc. has 30 total employees across all of its locations and generates $5.02 million in sales (USD). (Sales figure is modeled).
6. Where Does Zebit Ship From?
According to Zendesk: "The majority of our orders will ship out of Illinois and the transit times will be 1-4 business days. Tracking information will be emailed to you once your order is ready to ship."
7. Are Zebit Sizes Accurate?
Zebit mostly sells electronics and household items. All of the items are exactly as described in the product listing.
8. What Is Zebit's Refund & Return Policy?
"We are unable to accept returns or exchanges on any of the products we sell. Before going through checkout and placing your order, please ensure you've selected the products you want as we cannot make exceptions.
We do everything we can to ensure that all of our products arrive at your doorstep snug, safe, and secure. We will work with you to resolve any problems with damage to or quality of products. Please notify us immediately of any problems. We must receive notice of any issues within 10 calendar days of your receiving your order. If we are not notified within that time frame, we will not be able to help you. If parts are missing, we will send replacement parts if possible. 
If you need assistance with a product, please email [email protected] Do not attempt to return to a vendor directly as this will create delays."
"Zebit only allows refunds for defective furniture items.
For your protection, you must inspect all furniture products for damage or defects upon delivery. If the furniture is found to be defective, please reject the receipt of the furniture from the delivery agent and contact us immediately. We will issue you a refund for any amounts paid and cancel the order."
9. Does Zebit Have Good Customer Support? How Do I Reach Them?
According to their contact page: "For the safety of our employees, we have temporarily closed the call center and have moved to email-only support. Our hours of operation are Monday – Friday from 9 AM – 7 PM EST and Saturday from 9 AM – 6 PM EST. We remain committed to maintaining our high standards of service and look forward to assisting you."