Zulily Reviews 2023 – Is It Legit & Safe or a Scam?
This post contains affiliate links which means if you click on a link and purchase an item, we will receive an affiliate commission at no extra cost to you.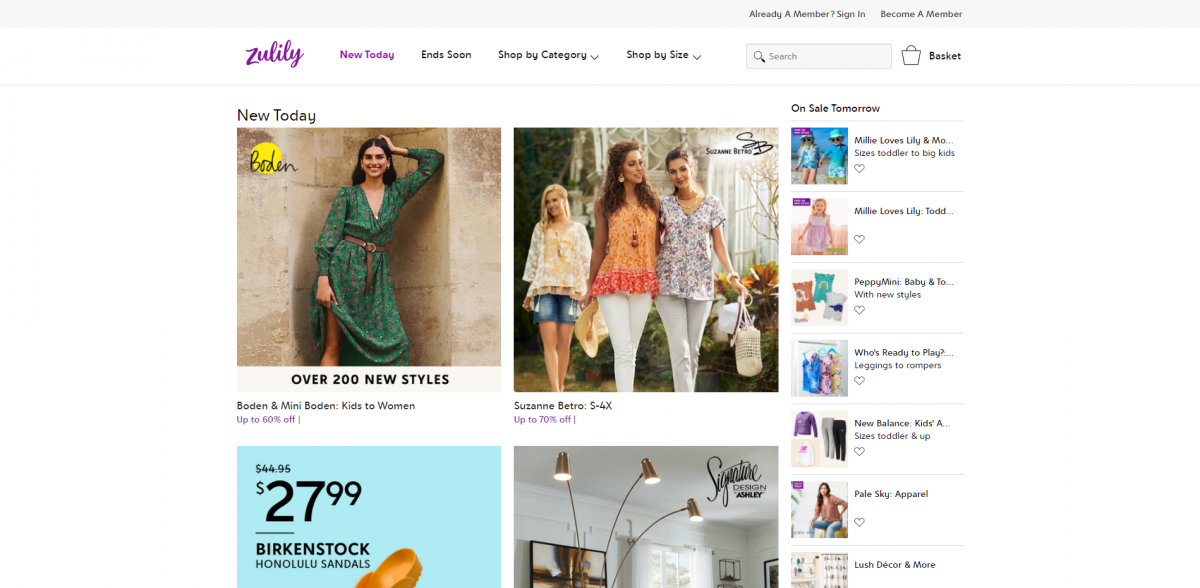 Zulily Reviews 2022 - Is It Legit & Safe or a Scam?
Zulily is a flash sale website that offers very low prices and limited-time offers. They're based in Seattle, Washington, USA, and sell mostly debut and rising-star brands.

Zulily has an A+ rating with the Better Business Bureau. Their customer service is excellent, and they're well known for low prices. Since it's a flash sale website, a lot of the sales will be for a limited time, so you need to be fast to get the best prices.

Our Recommendation: We recommend Zulily. Zulily caters to young, tech-savvy families with its low prices and strong customer service. This is just about the best deal we could ask for. Highly recommended.
Safety, Reliability, and Trust
10
PROS
Zulily has some of the lowest prices in the industry.
The customer service is very responsive and nice.
CONS
Flash sales mean you have to be fast to get the best prices.
Zulily usually has newer brands but not many designer brands.
They compete with Amazon but are less well known.
Add your review
My Experience With Zulily
One of the first memories I have of putting together outfits is when I was three years old. My mother would let me pull out all her clothes to see what looked good together. Now I have my own little girl, and she's growing up really fast. Buying baby clothes is the fun part, but there's also a never-ending need for baby supplies like diapers and educational toys.
Everyone told me about how bad the sleepless nights and long days would be, but nobody really explained how expensive having kids is. Forget college expenses, we're talking about the day-to-day supplies problem.
Having a child is the most expensive thing you'll ever do. Period. Kids are expensive, and the costs can be overwhelming. From diapers to doctor's appointments to daycare, it's a never-ending cycle of expenses that never seems to stop.
Lately, I've been hearing a lot about flash sale websites, especially Zulily. My young-mother friends all say that it's a good way to save money on all kinds of family stuff like men's clothes, women's clothes, and supplies for babies.
I checked Zulily out and found out that it's actually pretty cool. Zulily is a legit flash sale website that lets customers shop for all kinds of family items. The website offers a variety of products for kids, men, women, and home. Customers can find new deals every day as well as get notified through emails about the latest sales.
Zulily is based out of Seattle, although they sell things made in China, just like everyone else. But the great thing is, there's always Zulily customer service ready to support you. They work really hard to keep their customers happy and shopping.
If there's one thing you should know about Zulily, it's that they have a lot of sales. Like, an overwhelming number of sales. There were so many sales at one point that customers actually complained and Zulily had to start tailoring the sales more.
Zulily is one of those places that could only exist on the internet. They have a lot of different products, like a discount store, but they're able to get promotional products in and pass the savings onto customers. Most of the brands are debut brands or rising stars, but they have some established brands like Charmin and Crest too.
It's really perfect for people who like clipping coupons and waiting for sales. It's kind of like, instead of you going and hunting for sales, the sales hunt for you. You'll look through all of the flash sales and decide which ones work for you.
Zulily is really good about fixing problems. They don't hold a lot of stuff in their own warehouses, so they have to trust the brands to send undamaged goods to customers. But if there are any problems, you can just take a picture of it and send it to Zulily. Zulily fixes things like that really fast, and they send you a replacement or give you a refund.
Zulily has great reviews. Most Zulily customers really like it, and it has a lot of loyal fans. The one thing that you hear a lot is that Zulily has great customer service. People also like their flash sales, because the prices really are amazing.
Review websites are always flooded with fake reviews, so I checked them out at the Better Business Bureau. Their BBB rating is A+, and they handled complaints really professionally. Big companies always have busy customer service staff, but Zulily comes across as honest and helpful.
Anyways, I've never had a problem with Zulily. It's always been a nice shopping experience and great customer service, so I've got nothing but good things to say. Zulily is safe and the truth about Zulily is that they're doing the best that anyone could possibly do.
What Is Zulily?
Zulily is a flash sale website to shop for family items. The website offers a variety of products for kids, men, women, and home. The sales are usually for a limited time, so you have to be fast to get the best deals.
Zulily is headquartered in Seattle, but they ship directly from global manufacturers. Their brands are mostly less well-known, but they do have a lot of sales on major brands too.
Zulily Alternatives
If you're looking for alternatives to Zulily, you can check out Amazon, Gymboree, and BabyCenter.
Zulily FAQs
1. Is Zulily a Reputable Brand?
Zulily is the place for fashion, family finds, home décor, and the lowest prices. Every day is a new shopping adventure – up to 70% off!
Shop favorite brands and boutique labels you won't find anywhere else. The best part? Daily sales begin at 6 am PT and usually last up to three days, so there's always something new to discover for your family, your home, and even for yourself.
Explore kids' toys, women's clothing, and smart home finds – plus top beauty and wellness trends!
2. Is My Data Safe When Using Zulily's Website?
According to the website: "We employ certain administrative, technical, and physical security measures to help reduce the risks of loss, theft and unauthorized access associated with the information that is in our possession. We cannot, however, guarantee the security of the networks, systems, servers, devices, and databases we operate or that are operated on our behalf."
3. How Long Does Zulily Take to Ship?
According to the website: "Items shipping from a Zulily warehouse in the US typically arrive 5-7 days after they leave the warehouse. Items that ship from an international location typically arrive 9-14 days after they leave the warehouse.
Look in checkout for your order's estimated ship-out date. We'll email you if your package is going to ship out more than 3 days outside our estimate."
4. What Are Zulily's Shipping Costs?
Standard shipping at Zulily typically ranges from $5.99 to $10.95 per order. It's calculated based on the type and number of items ordered. For most items, shipping is $5.99 for the first item and goes up to $7.99 with additional items.
5. Where Is Zulily Located?
Zulily, LLC is located in Seattle, WA, United States and is part of the Electronic Shopping and Mail-Order Houses Industry. Zulily, LLC has 2,907 total employees across all of its locations and generates $1.56 billion in sales (USD). (Sales figure is modelled). There are 187 companies in the Zulily, LLC corporate family.
6. Where Does Zulily Ship From?
According to the website: "The shipping & handling time frame depends on what items you order and where you live in Canada. Your order will typically ship from our Zulily US warehouse within 10-12 days of the order date. For when specific items are expected to ship, take a look at the product description pages. Once your items arrive at our warehouse, it typically takes 5-7 days for your order to arrive in most metropolitan areas and up to 12 business days for rural areas. Once your order is placed, you can always check your order's status under My Orders."
7. Are Zulily Sizes Accurate?
Zulily serves the North American market, so expect North American sizes. Always use the size charts, though!
8. What Is Zulily's Refund & Return Policy?
Here's the link to their Refund & Return Policy.
"How will I be refunded for my return?
We issue refunds for returns in the form of store credit that's applied directly to your account on Zulily.com — but not to original methods of payment, such as PayPal or Visa. However, if you return items that were purchased using the Zulily credit card, we'll issue a refund, minus applicable shipping & handling fees, to your Zulily credit card account instead.
Which items are NOT eligible for return?
Items not eligible for return include: swimwear, intimate apparel, personalized items, food, makeup, personal hygiene items (i.e. face masks), furniture, heavy/bulky items, some electronics, and some luxury goods. To determine return eligibility, check the item's product details page or our My Orders page.
Additionally, in order to receive store credit, all returned items must be unused, unaltered, and in original packaging with tags attached. Be sure to include any warranty cards and accessories, if applicable. Apparel must also be unworn and unwashed.
How many days do I have to make a return?
Once you receive a return-eligible item, you have 30 days to submit a return request and ship your item to us.
What are your return fees?
For single-item returns, the fee is $4.95. For returns of two to five items, the total fee is $8.95. An additional $8.95 will be deducted if you make a return of six items or more, continuing in increments of five. These shipping & handling fees include labor and material costs, packaging and restocking fees, and may exceed the actual cost paid by Zulily to its carrier to send the item(s) back to Zulily. You'll see your estimated store credit total, minus the shipping & handling fees, before you submit your return online.
Do you accept returns outside of the US?
Returns are available to US members only for products shipped within the US (including APO/FPO/DPO addresses) and returned to Zulily from within the US."
9. Does Zulily Have Good Customer Support? How Do I Reach Them?
"If you have any questions or comments about this Notice or if you would like us to help you adjust your preferences, please contact us by email at [email protected] or call us at 1-877-779-5615.
If preferred, you may write to us at:
Zulily, LLC
Attn: Privacy Inquiry
2601 Elliott Avenue, Suite 200
Seattle, WA 98121″